Chubb holds regional day of service, giving back to communities | Insurance Business Asia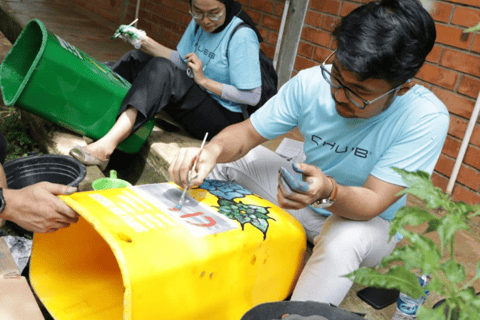 Chubb has held its annual regional day of service (RDS) across Asia-Pacific, marking the 10th year its employees have come together to benefit their communities.
This year's edition of RDS, held from Nov. 7 to 11, also marked the return of in-person activities in 10 of Chubb's markets across Asia-Pacific, with more than 460 employees from Hong Kong, Indonesia, Korea, Malaysia, New Zealand, Philippines, Singapore, Taiwan, Thailand and Vietnam participating.
"This year, Chubb marks a decade of giving back to communities in the region through our regional day of service," said Paul McNamee, regional president for Chubb in Asia-Pacific. "Since the beginning, all outreach activities are completely led and executed by our employees. Their can-do spirit and unwavering commitment to communities where we live, work and serve have made our regional day of service a success. I am truly grateful to all Chubb employees for their passion and contributions to RDS."
Employee volunteers in Hong Kong helped pack over 800kg of rice, to be distributed to elderly and families supported by St. James Settlement. Chubb staff also accompanied 20 underprivileged children from the organisation to the Hoi Ha Wan Marine Life Centre, where they learned about ocean conservation and took part in a guided cruise on a glass-bottom boat.
Staff volunteers from Chubb Hong Kong and DBS held a series of financial literacy workshops for over 200 secondary-level students from five schools. This program also marks the fifth year of partnership with DBS.
In Indonesia, volunteers (pictured above) helped out at the SOS Children's Village in Jakarta. The company donated essential items, such as a water filtration system, waste sorting bins, and health supplements for children. They also participated in an interactive activity session to connect with the beneficiaries.
In Korea, 68 employees helped build 75 sets of braille calendar and braille number playing cards for visually impaired children. These were distributed together with financial education audiobooks produced by Chubb to care facilities and schools for the visually impaired, with the help of Child Fund Korea.
Chubb New Zealand's volunteers helped clear up a donated warehouse space and set up sorting stations for donated items, such as clothing, hygiene products and toys. The volunteers were able to pack 200 gift boxes, which will be part of the 5,000 Christmas gift boxes that Catalytic Foundation will distribute to underprivileged children.
In the Philippines, 150 staff volunteers from Chubb's business services unit helped assemble and deliver 1,460 packs of school supplies to Maybunga Elementary School.
Chubb's volunteers in Singapore ran a virtual donation drive that raised over SG$39,000 for low-income families supported by Beyond Social Services (BSS). They also organised a science workshop for 60 primary school children supported by BSS.
In Taiwan, volunteers donated 12 sets of used computers to Qin'Ai Elementary School and organised a financial literacy camp for about 70 students. Chubb also sponsored a rice field that helps preserve Ina Valley glutinous rice, a variety of rice with cultural relevance to the local community.
Chubb's general insurance operation in Thailand organised an educational day trip for 100 middle-school students from Prongmadua Wittiyakom School to help them learn about the mangrove ecosystem, as well as joined a river clean-up.
"Over the years, we have seen RDS evolve to better serve our communities," said Brad Bennett, chief operating officer of Chubb Life. "For instance, the focus on meeting essential needs of communities and virtual elements in outreach programs were a response to the COVID-19 pandemic. This year, the majority of RDS activities were conducted on-site, and this has been welcomed by our employee volunteers. While the format of our day of service may change over time, the commitment to our communities remains constant as we look forward to the continued success of RDS."