FWD Group names CEOs for Philippine and Thai markets | Insurance Business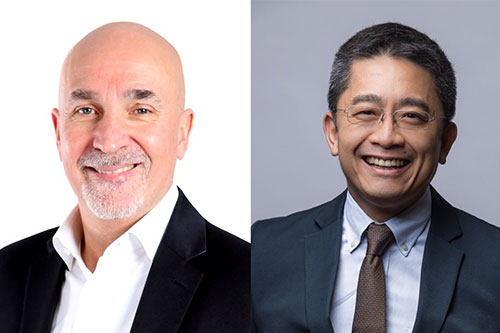 FWD Group has named Peter Grimes (pictured left) as CEO for its businesses in Thailand, effective January 01, 2020. Grimes is currently president and CEO of FWD Life Philippines, and will be succeeded in this position by Li Hao Zhuang (pictured right), currently group head of agency distribution.
In a statement, FWD said that Grimes will relocate to Thailand by the start of next year to lead its expanded business in Thailand, following the recent acquisition of SCB Life Assurance. David Korunić, CEO of SCB Life, and Poramasiri Manolamai, CEO of FWD Life Thailand, will both report directly to Grimes, who, in turn, will report to Huynh Thanh Phong, group chief executive officer.
Zhuang and Grimes will work together closely to ensure a smooth transition and handover, the statement added.
Grimes has worked in Asia for over 30 years, 20 of which were in the financial services industry. At FWD, he was initially group chief partnerships officer before being appointed CEO of FWD Life Philippines. Meanwhile, as group head of agency distribution, Zhuang was a major contributor to FWD's 'Elite Agency' strategy across six Asian markets.
Read more: Transforming the insurance agency model in the age of technology
"Our growth strategy has enabled us to attract and build a strong pool of talent at FWD which we aim to develop with the right opportunities across our businesses in Asia," said Huynh Thanh Phong, group chief executive officer of FWD. "We are extremely delighted to announce the two appointments through promotions of our in-house leaders. Both Peter and Li Hao's on-going commitment and outstanding leadership will be integral to supporting FWD on our path of becoming a leading pan-Asian insurer that changes the way people feel about insurance."