Hong Kong cabbies call for insurance surcharge | Insurance Business Asia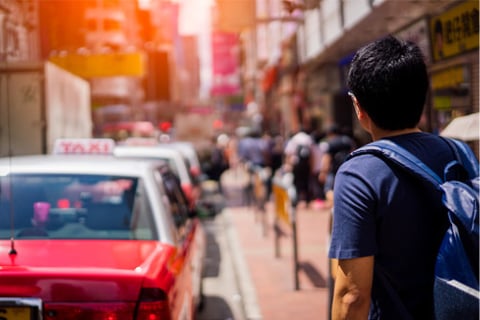 Taxi passengers in Hong Kong may be required to pay HK$6 (US$0.77) in additional fare for each ride, to cover the cost of insurance premiums.
The taxi sector said that it needs to impose a surcharge due to the rising cost of insurance, the South China Morning Post reported. Two years ago, the sector made a similar proposal, but the government did not take action on it.
The move comes amid falling passenger numbers due to the COVID-19 pandemic, but representatives of the taxi industry said that the surcharge was unlikely to further discourage Hongkongers from hailing taxis.
In July 2019, Hong Kong taxis served around 859,000 passengers, based on official figures. In July 2020, this number decreased to around 620,000, as movement of people fell to avoid spreading or getting infected by the coronavirus.
According to the report, the current flag-down charge for red taxis in urban Kowloon and Hong Kong Island is HK$24, HK$20.5 for green taxis in the New Territories, and HK$19 for blue taxis on Lantau Island.
An alliance of 28 taxi associations wrote to the Hong Kong government on Monday, lamenting the inaction on the previous application, and arguing for the fare increase due to rising insurance premiums.
"We hope the government can treat this as a special case and approve our application within a month," said Chau Kwok-keung, a representative of the Hong Kong Taxi and Public Light Bus Association. Chau added that they will withdraw their latest proposal if the previous one is approved.
The average cost of comprehensive insurance for taxis in 2019 was HK$27,218, or 7% higher than 2019. According to Chau, the cost of insurance has surged to around HK$40,000 this year. This is exclusive of third-party premiums, which also rose considerably.
"The taxi industry has already been hard hit during the COVID-19 pandemic, as the number of [passengers] dropped significantly," Chau said.
"But our application this time is not based on the pandemic itself, rather how we can cope with the spike in insurance costs."