Insurance agent found guilty for bribing Indonesian embassy official | Insurance Business Asia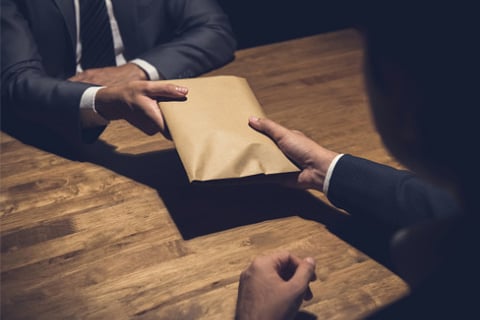 Three Singaporeans, including an insurance agent, were found guilty of multiple charges of bribery after attempting to pay off an official of the Indonesian embassy in Singapore.
The court handed guilty verdicts to James Yeo Siew Liang (47), former agent for AIG Asia Pacific Insurance and Liberty Insurance; Abdul Aziz Mohamed Hanib (65), freelance translator; and Benjamin Chow Tuck Keong (57), corporate development director, Today reported.
After a trial that began in November 2019, Yeo was convicted of 18 charges of corruption, as he gave over SG$71,200 in bribes to Indonesian embassy labour attaché Agus Ramdhany Machjumi via Abdul Aziz, who was also convicted with 18 corruption charges.
Chow, who was found guilty of a single charge of abetting corruption, was the person that introduced the two other co-accused to each other. Another individual linked to the scheme, Samad Salim, has yet to be charged.
The bribes were related to performance bonds for Indonesian domestic workers in Singapore. The embassy introduced the bonds in 2018, where employers have to pay SG$70 for each bond guaranteed by insurers for an employment contract. Insurance agents would receive a commission of 45% of the premium for each bond.
There are more than 120,000 Indonesian domestic workers in Singapore, making the business of employment bonds a lucrative one.
Yeo used the bribe to influence Agus to favour his former companies AIG and Liberty, so he could receive the commission. Between February and June 2018, the two insurers issued more than 5,700 performance bonds, the report said. Yeo shared his commissions, which were around SG$125,000, with Agus, Abdul Aziz, Samad and Chow.
Abdul Aziz was also convicted of a similar offence, where he sought bribes for Agus from two agents of Tokio Marine Singapore for performance bonds. The agents, however, turned down the offer.
Meanwhile, Agus was not charged in a Singaporean court, but the Indonesian government has recalled him to Jakarta.
Yeo, Abdul Aziz and Chow are set to return to court on July 14 for mitigation and sentencing. Each corruption charge carries a maximum fine of SG$100,000 and up to five years in jail.