Malaysian insurer enables policy delivery through WhatsApp | Insurance Business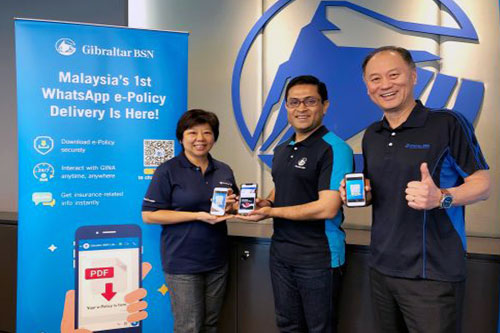 (L-R): Susan Ong, chief marketing officer; Rangam Bir, president and chief executive officer; and Kim Soon, chief operating officer, of Gibraltar BSN Life Bhd
Gibraltar BSN Life Bhd has launched its e-policy delivery system via WhatsApp, which the insurer claims is the first such system in the Malaysian market.
Additionally, the company has also debuted its chatbot GINA, which stands for Gibraltar Intelligent Assistant, to provide 24/7 customer service on the WhatsApp platform.
"Technological advancements have driven a change in consumer behaviour where today's customers expect instant gratification," said Rangam Bir, CEO of Gibraltar BSN. "We are proud to be the first insurer in Malaysia to deliver immediacy and convenience to our customers by leveraging WhatsApp, a popular household messenger app that allows our customers to easily retrieve their insurance policies whenever they want, gain answers to their queries instantly 24-7 or even download claim documents."
Regarding the choice of messaging app, Gibraltar BSN cited the Internet Users Survey 2018, published by the Malaysian Communications and Multimedia Commission, which found that WhatsApp is the most widely used messaging app in the country.
The launch of the WhatsApp e-policy delivery system and chatbot follow the recent launch of iLyfe, the insurer's digital sales tool for agents. These digital initiatives, the insurer said, are part of its three-year ASCEND transformation programme, which seeks to make it a "stronger and more dynamic competitor" in the Malaysian life insurance market.