Brokerage raises $173,000 for charity at Xmas lunch | Insurance Business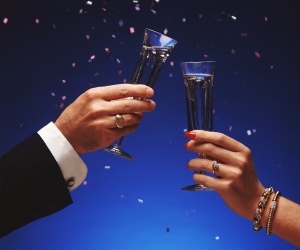 In front of 600 insurance industry delegates in Melbourne, an insurance brokerage has raised $173,000 for charity, a record amount for the firm at its fourth annual festive shindig.
The 4th Annual McLardy McShane Reach Christmas Lunch took place at Peninsula at Atlantic, Docklands in Melbourne on Wednesday 5th December and a grand total of funds raised from the event was $173,000, of which $20,000 will be donated towards the continued development of the SOAR foundation in Ireland.
This year, a record 600 people attended with the insurance industry represented by Steadfast, QBE, Mecon Winsure Group, NTI, Premier Funding, Lumley Insurance, Lumley Finance, Vero, ACE Insurance and Chubb plus many other brokers and intermediaries.
Guests were treated to a number of special performances from celebrity guests, including Emmanuel Kelly, the teen singing sensation from the X Factor, who paid tribute to his mother, Moira Kelly in the audience and sang his new single "Dream Big", The Voice Star Darren Percival wowed the audience with his unique musical ability and MC's long-time Reach ambassadors, Trisha Silvers and Kayne Tremills, led moving interviews with past and present Reach participants.
Sarah Davies, CEO of The Reach Foundation, was overwhelmed with the success of the lunch and the record fundraising result" "Today we have seen though the stories from our guest speakers that corporate Australia, in particular the Insurance Industry, is having tangible, life changing impact on the future of the young people of this country. With your continued support we can be very confident that Jim's legacy through Reach will be achieved well into the future."
The 2013 luncheon is already booked for Wednesday 4th December.
---