After the storm: Japan's recovery efforts post-Hagibis | Insurance Business Asia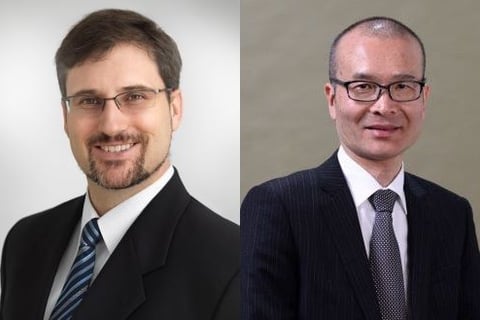 Gareth Cottam (left), of Crawford Forensic Accounting Services Asia, and Futoshi Suezawa (right), Japan country manager at Crawford & Company
On October 12, Typhoon Hagibis made landfall in Japan, causing widespread damage, especially in the Kanto region. It was the strongest storm to hit the region since Typhoon Ida in 1958.
Two experts from international claims firm Crawford & Company – Futoshi Suezawa, country manager for Japan, and Gareth Cottam of Crawford Forensic Accounting Services Asia ­– were on the ground and shared information regarding the recovery efforts with Insurance Business.
According to Cottam, as of 5pm of October 14, the Ministry of Health, Labour and Welfare said more than 138,000 households were without water supply, while utility companies said that nearly 500,000 households were still without power across Tokyo, Nagano, and other impacted prefectures.
Furthermore, around 38,000 people across 17 prefectures had evacuated their homes, according to the Fire and Disaster Management Agency, while 3,700 homes had been flooded across the country.
"The recovery effort is still in early days but the extent of the damage is severe," Cottam said. "Crawford has a team of adjusters in Japan handling claims from both local and international insurers. We expect to receive more claims over the coming days as claims are notified to insurers once the immediate clean-up is completed."
Before any logistics efforts can be resumed, floodwater must be pumped out from the impacted locations. Furthermore, the subsequent clean up and removal of mud, silt and debris will likely be an ongoing effort in the weeks and months to come.
According to Cottam, throughout Japan, and especially in the Greater Tokyo area, there is a significant shortage of manpower. Construction crews are already fully engaged in the preparation works for the coming Tokyo Olympics and existing damage from typhoon Faxai, thus creating longer and longer lead times for getting quotes and repairs underway.
Read more: Recent typhoons unlikely to affect Japanese insurers' capitalisation
"Although flood waters receded from a Hokuriku Shinkansen bullet train yard in the city of Nagano, where 10 bullet trains were affected, East Japan Railway Co. said it will take 'substantial time' to resume full-scale operations on the Hokuriku Shinkansen Line connecting Tokyo and Kanazawa, in Ishikawa Prefecture," Cottam said. "The 10 trains represent a third of their total trains on this service, while remaining Shinkansen services have resumed regular schedule trips. Local small railways have encountered damage, particularly to railway tracks and have suspended operations across several routes."
He added that the Tokyo area is largely back to business as usual, but much of the surrounding areas have been devastated.
Preparation efforts
Cottam also shared the Japanese government's efforts prior to Hagibis making landfall. According to him, relevant agencies held a disaster management meeting two days before the typhoon hit.
"Given it was a long weekend, the government met with officials from ministries and agencies concerned, confirming in advance related matters such as dispatching personnel to local governments and securing emergency power sources in the event of outages," he said.
The large number of foreign nationals due to the Rugby World Cup also presented an issue. In response, a smartphone app was prepared to provide disaster information in 11 languages, Cottam said. The government also called on foreign nationals to follow the various ministry and agency accounts on Twitter to stay informed. A free Wi-Fi service was installed in affected areas to facilitate communication.
Unique storm
According to Suezawa, there were several conditions that contributed to Hagibis' strength and the widespread damage it dealt. Also, the sheer volume of water during and immediately after the typhoon was the greatest challenge.
"Typhoon Hagibis has brought huge amounts of rainfall in many areas, causing more than a dozen rivers to overflow," he said. "Meteorological officials say up to 40% of the yearly rainfall was recorded in only a day or two in many areas. This caused the collapse of dikes and levees at 52 locations on 37 rivers in seven prefectures."
"The seawater temperature was far greater than typical, by several degrees," he said. "This led to the typhoon continuing to grow and develop. Compared to Typhoon Faxai the previous month, Hagibis was nearly 2.5 times larger in size, covering a far greater geographic region, and therefore causing far more damage. The winds were somewhat weaker than Faxai as the typhoon weakened as it approached Japan, but it was still strong enough to be destructive."
He added that the shape of the land and the location of the clouds led to humid air from the sea hitting the mountains, driving it up higher and causing a greater amount of rainfall.