AIA extends title sponsorship of Singapore Premier League | Insurance Business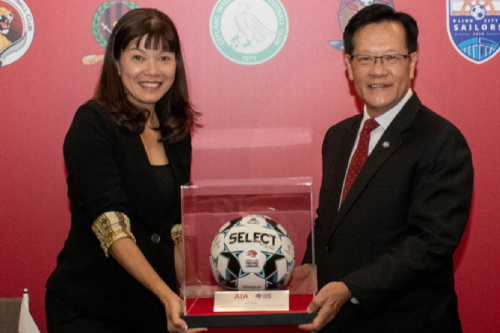 AIA Singapore CEO Wong Sze Keed (left) and FAS president Lim Kia Tong (right)
AIA Singapore and the Football Association of Singapore (FAS) have renewed the insurer's title sponsorship of the Singapore Premier League (SPL).
Under the new agreement, AIA will remain the league's main sponsor through the 2022 season, with an option to extend the contract for another three years, a joint statement from the parties said. The insurer first became the league's title sponsor in 2019.
As part of the sponsorship, the league will give out the AIA Player of the Month and AIA Young Player of the Month awards during the SPL season. These awards complement the AIA Player of the Year accolade, which is bestowed at the end of every season.
The FAS and AIA Singapore will also work together with SPL players and AIA global ambassadors and partners such as Tottenham Hotspur. These include match-viewing events and community football clinics, as well as interactive activities online to enhance fan participation.
The partnership also aims to enhance the level of Singaporean football through coaching education seminars with Tottenham Hotspur's global development coaches.
"Through this collaboration with FAS, we are committed to actively supporting our nation of developing local football talents while also, engaging and bringing football even closer to the community, helping us to deliver on our brand promise of enabling healthier, longer and better lives in Singapore," said Wong Sze Keed, CEO of AIA Singapore.
"We are delighted to be able to continue working with AIA Singapore, who have displayed steadfast commitment to lifting local football standards since becoming the title sponsor of the SPL two years ago," said FAS president Lim Kia Tong. "This partnership has certainly helped to improve the vibrancy of the Singapore football scene not just from the perspective of our professional league but also in various other aspects such as coaching."
The 26th SPL season is scheduled to open on March 13. However, due to COVID-19 restrictions, the AIA Community Shield match has been rescheduled to June 19.