AIA extends Tottenham sponsorship until 2027 | Insurance Business Asia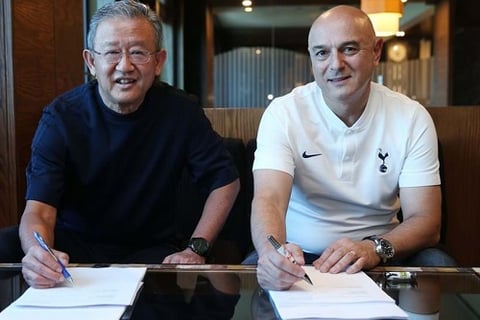 AIA president & CEO Ng Keng Hooi (left) and Tottenham Hotspur chairman Daniel Levy (right)
AIA Group and English Premier League side Tottenham Hotspur (Spurs) have renewed their long-standing partnership, extending it until the end of the 2026-2027 football season.
The new deal, which BBC estimates at around £40 million (US$50 million) a year, extends the previous agreement signed by the North London football club and Hong Kong-based pan-Asian insurer in 2017, which was supposed to last until 2022.
Read more: AIA and Tottenham Hotspur renew shirt sponsorship deal
As a result, the AIA logo will continue to appear on the front of the club's men's, women's and academy teams' shirts in all competitions until 2027. The relationship between the parties began in 2013, when AIA agreed to sponsor Spurs' cup shirts.
The announcement comes as AIA celebrates its centennial year across its 18 markets. As part of the celebrations, Spurs' pre-season tour held stops in Singapore and Shanghai, the city in which AIA was founded in 1919.
"The enormous popularity of the English Premier League and Spurs across our markets, coupled with the ongoing success of the club on the field… make this an ideal time to extend our partnership," said AIA president and CEO Ng Keng Hooi. "As the club's global principal partner, we will continue to create many opportunities for our customers, agents, employees and local communities to interact with Spurs players, coaching and support staff. We've already enjoyed a great deal of success together and I am very confident that both on and off the field there is much more to come."
"We're proud to have the immense support of AIA at such a significant time in the club's history," said Tottenham Hotspur chairman Daniel Levy. "We shall continue to collaborate to drive the club's and AIA's growth in Asia and support AIA's commitment to healthy living in its Centennial year and beyond."