Bowtie appoints Daisuke Iwase as senior advisor | Insurance Business Asia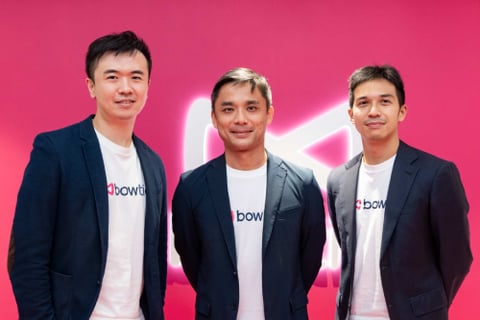 Bowtie senior advisor Daisuke Iwase (centre), with co-founders and co-CEOs Fred Ngan (left) and Michael Chan (right)
Hong Kong-based virtual insurer Bowtie has appointed Daisuke Iwase as senior advisor. Iwase co-founded Lifenet, Japan's first digital life insurance company.
Alongside former Hong Kong Financial Secretary John Tsang, Iwase will advise Bowtie as it seeks to become Asia's leading virtual insurer, the company said in a statement.
After co-founding Lifenet in 2006, Iwase served as its representative director and president, and successfully took the company public on the Tokyo Stock Exchange in 2012. Today, Lifenet provides US$27 billion worth of protection to over 400,000 customers.
He is currently managing partner at Tiger Gate Capital, a strategic advisory firm based in Hong Kong that serves fintech and healthtech venture companies. He previously served as group chief digital officer of AIA until 2019.
"I'm excited to join a fast-growing team like Bowtie," Iwase said. "The pace of technology change has continued to accelerate and customers are now readier than ever for digital channels. Bowtie is well-positioned to take on the challenges and seize this opportunity."
"Every new digital insurer, including Bowtie, has studied Lifenet closely," said Michael Chan, co-founder and co-CEO of Bowtie. "Mr Iwase is a true trailblazer and has been generous in sharing his advice with young entrepreneurs. I am confident Mr Iwase will help guide our young team through Bowtie's growth and expansion ahead."