Great Eastern unveils new office in Paya Lebar Quarter | Insurance Business Asia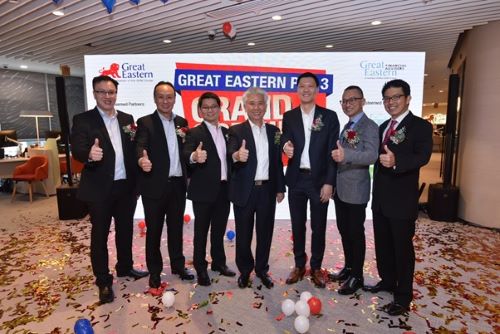 Great Eastern executive's at the launch of the Paya Lebar Quarter office: (L-R) Jeffrey Lowe, group chief internal auditor; Ben Tan, managing director, regional agency/FA & bancassurance; Gary Teh, managing director, group IT; Khor Hock Seng, group CEO; Jimmy Tong, managing director, group & general insurance; Patrick Kok, managing director, group operations; and Colin Chan, managing director, group marketing
Great Eastern has opened its newest office at Paya Lebar Quarter (PLQ), in a move which it says supports the Singaporean government's efforts to decongest the central business district and create employment opportunities outside the city centre.
According to Great Eastern, the new 125,000 sq. ft. facility follows an open office plan and has a contemporary minimalist concept. It is located on the top four floors of the 13-storey PLQ Tower 3 and hosts around 1,400 Great Eastern financial representatives, supported by customer service and new business underwriting teams. It is able to serve more than 8,000 customers every month.
Read more: Great Eastern invests in digital tools for its agency force
The opening ceremony, held on October 16, was attended by Great Eastern senior management, including group CEO Khor Hock Seng; managing director for regional agency/FA & bancassurance Ben Tan; and managing director for group marketing Colin Chan. More than 200 guests, including agency leaders, financial representatives, and business partners, were in attendance.
PLQ is an integrated mixed-use project located next to the Paya Lebar MRT station and is served by the East-West Line and Circle Line, Great Eastern said in a statement. This latest expansion is part of the company's plan to expand its business footprint, and it aligns with the Singapore Urban Redevelopment Authority's Master Plan to develop a progressive commercial centre between the CBD and Changi Airport.
Aside from serving as a working space for financial representatives and support teams, the PLQ office features multiple modular training rooms and a town hall that has multi-tiered casual seating areas suitable for customer-related events. There is also a theatre room, equipped with cutting edge audio-visual systems, which is suitable for hosting product launches.