Hong Kong's first virtual general insurer launched | Insurance Business Asia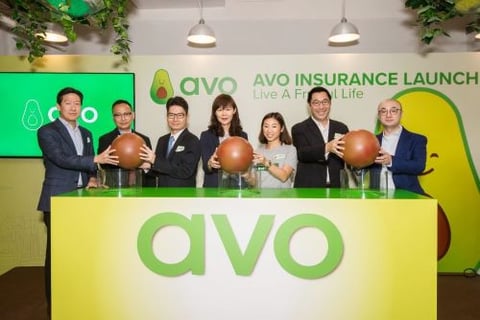 (L-R) Mervyn Chow, partner at Hillhouse Capital Management, Clement Cheung, CEO of Hong Kong's Insurance Authority, Joseph Chan, Undersecretary for Financial Services and the Treasury, Winnie Wong, executive director and CEO of Avo Insurance, Stephanie Tan, director of Avo Insurance, Laurence Li, chairman of Financial Services Development Council, and Liu Jie, partner at Hillhouse Capital Management
Avo Insurance, which was granted a virtual general insurance licence by the Hong Kong Insurance Authority earlier this month, officially launched on October 17.
According to a statement from the company, its mission is to create a simple and enjoyable digital insurance experience that integrates seamlessly into everyday life, giving consumers an easy and secure experience throughout the entire insurance process – from purchase and management of policies to claims.
The company's name is based on "avocado", and its mascot, called Cado, resembles the fruit.
The first three products offered by Avo are travel insurance, cancer insurance, and e-wallet insurance, with several other products slated to be launched soon. The e-wallet insurance product's premium starts at HKD$79 (US$10) annually, the statement said.
Customers can get a personalised quote online and can purchase a policy within minutes, after answering a few questions, it added.
"Many people in Hong Kong are first time insurance buyers due to the fact that they find insurance complicated or have not felt that insurance is relevant in their daily lives," said Winnie Wong, executive director and CEO of Avo Insurance. "Through technology, our team at Avo is committed to designing new insurance products that are simple, relevant, and can offer better protection for people's needs. We want to be able to bridge the large protection gap that currently exists in Hong Kong, tapping into new customer segments through different channels."