MAPFRE, China Re sign cooperation agreement | Insurance Business Asia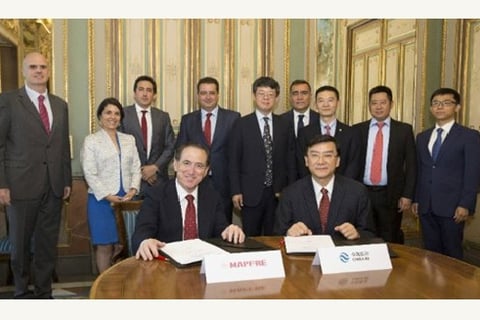 Executives of MAPFRE and China Re at the MoU signing ceremony
MAPFRE and China Re have signed a memorandum of understanding to jointly insure projects under Beijing's Belt and Road Initiative (BRI).
A part of the agreement between the two firms, MAPFRE will offer insurance and reinsurance support to Chinese interests in Latin American and European countries where it has a local presence, a statement by the Spain-based insurer said. It will also act as cedant for China Re on projects of interest to both parties.
MAPFRE and China Re have been working together for a number of years, including reinsurance transactions, and roadside assistance, through their respective subsidiaries – Road China Assistance and China Continent.
Read more: China Re snaps up Chaucer Group
The BRI, which was initiated in 2013, is a long-term intercontinental project that includes the construction of roads, railways, ports, airports, oil and gas pipelines, and power plants, but also includes other projects, such as educational programs and the construction and development of special economic zones.
A total of 132 countries are currently participating in the BRI, together accounting for 30% of global GDP, 62% of the world's population, and 75% of known energy reserves.