NTUC Income sets up own financial advisory firm | Insurance Business Asia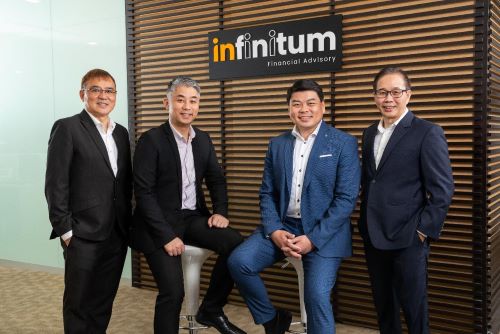 (L-R) Eric Choa, founder of Elpis Financial founder; Ronald Tan, CEO of Infinitum; Andrew Yeo, CEO of Income; and Charles Tiong, founder of Financial Dynamics
NTUC Income has revealed that it is establishing a wholly-owned financial advisory (FA) firm, known as Infinitum Financial Advisory Pte Ltd.
Infinitum is being set up following Income's acquisition of Elpis Financial, a leading licensed financial advisory (LFA) firm in Singapore. Concurrently, Income is also finalising its acquisition of Financial Dynamics, which is expected to be completed by the end of July, it said in a statement.
As part of the acquisition, Elpis's roster of over 80 financial adviser representatives and staff will join Infinitum, while the latter will take over the management of Elpis's clients, products and services. To ensure a smooth transition following the acquisition, clients will continue to be served by their current financial adviser. The same will also apply to Financial Dynamics when the acquisition is completed.
Read more: NTUC Income launches digital portal and adviser
By acquiring well-established financial advisory firms in Singapore, Income accelerates Infinitum's growth and competitiveness in the industry, leveraging the firms' existing pool of FA representatives, clients, and products and services, the statement continued.
"With strategic acquisitions, we are quick to go to market. Infinitum offers the FA industry a differentiated proposition and, to some LFA firms, a unique opportunity to consolidate their businesses into a larger entity to leverage economies of scale," said Ronald Tan, Infinitum's CEO. "It is also a chance to sharpen their focus on managing the firms' FA representatives and their customers' needs and interests. Tapping Income's well-established risk management, compliance governance and market conduct framework and practices, Infinitum, through consolidation of LFA firms, is thus well placed to enhance the professional standards of the FA industry in Singapore. To increasingly discerning customers in Singapore, this is especially advantageous."
Despite being owned by Income, Infinitum will be a multi-product provider and will not impose a minimum sales requirement on Income products, Tan added.
"The setting up of Infinitum is part of Income's strategy to extend our distribution footprint even as we sharpen our digital capabilities and offerings," said Andrew Yeo, CEO of Income. "More significantly, we saw Infinitum as a unique opportunity for us to consolidate and tap economies of scale and a wealth of experience in the FA industry to strengthen Income's customer touch-points, while, concurrently, leveraging Income's strong operational infrastructure, agility and technological capabilities to move LFA up the value chain."