Jump to winners | Jump to methodology
Breaking the mould
Adapting quickly is important. In life. In business. And especially in technology. For example, Betamax existed before and was arguably superior to VHS, but Betamax couldn't adapt fast enough to evolving consumer demands, such as being able to record three-hour sporting events. So, VHS triumphed.
Insurtech Australia is the country's leading not-for-profit industry association for insurance innovation and can relate to the Betamax experience.
"Facebook wasn't the first social media, but at a certain time you take off faster"
Andrew Wong, KOBA Insurance
CEO Simone Dossetor says, "Our insurance partners are looking for insurtechs with a clear purpose and value proposition that meet a business need they are trying to solve. They are also looking to invest through their venture funds whilst also being a customer or underwriter for their products."
Dossetor also stresses how costs have fallen, as technology has been developed using the Software as a Service (SaaS) model. "They are developed to connect and configure different platforms, offering more flexibility and speed to make changes without requiring deep technology skills."
The 23 winners of the 2022 IB 5-Star Insurance Innovators awards look set to stand the test of time. In the midst of the pandemic and regulatory burdens, these companies launched everything from new platforms to innovative ways of doing business. All distinguished themselves with new offerings in 2021. We evaluated them for true innovation and proven success, and ultimately determined which companies were worthy of the 5-Star label.
"Clear Insurance operates with integrity and transparency. Since engaging Clear Insurance, we have felt reassured we have the appropriate coverage and advisers that have the best interests of our business at heart"
John Bucknell, Currumbin RSL Group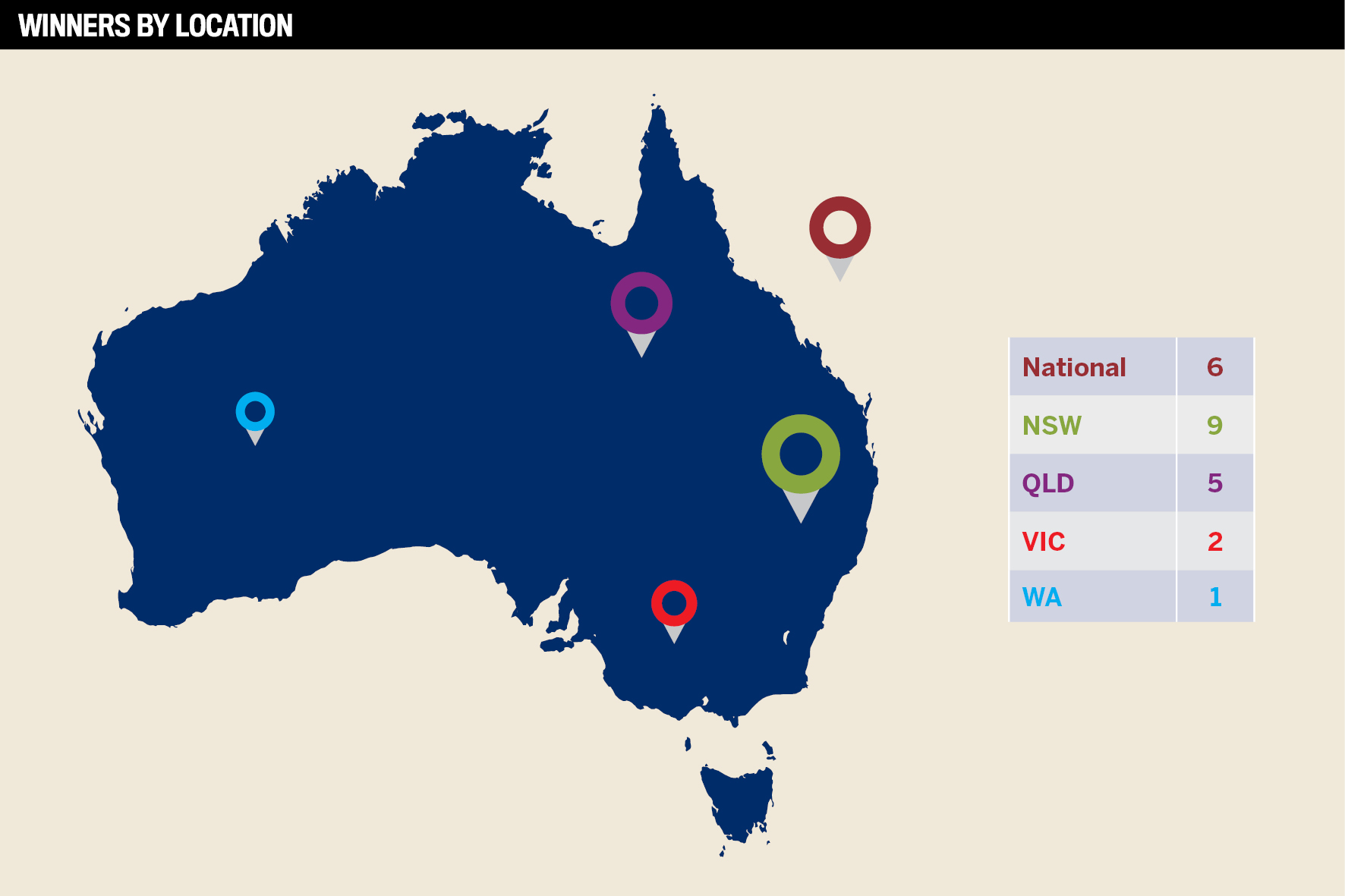 Auto insurance that goes the extra klick
"Facebook wasn't the first social media, but at a certain time you take off faster," says Andrew Wong, founder of KOBA Insurance, one of the award winners. "We believe now because of COVID, post COVID, the timing is right for telematic-based insurance and user-based insurance because the world has been forced to have a different conversation around mobility."
They're not the only ones. Forbes reported that this year's global vehicle telematics market is expected to be valued at US$103 billion. KOBA Insurance has been growing at 70% month on month since January.  
During the lockdowns, most Australians were indoors while their cars waited idly on the driveway. Auto insurers were still getting nearly full premiums despite the government-mandated reduction in mobility. In the US, for example, Allstate and American Family Insurance ended up giving consumers back $800 million. Spotting the opportunity to right a wrong and corner a niche market, Wong launched KOBA Insurance in November 2021. KOBA Insurance connects via GPS to the car's onboard computer. Customers pay a fixed rate to cover the parked car and then only for the driving they do – at a $0.03 per kilometre rate.  
"It's really easy to tell people about the problem," says Wong. "With the cost of living going up and all the rebound effect – and post-COVID it has also continued to put stress on the wallet – gives people reasons to save."  
Australian inflation is at a 21-year high of 6.1%, according to the Australian Bureau of Statistics.  
However, their technology sector is equivalent to the country's third biggest industry, just behind mining and banking, with 861,000 jobs employing 1 in 16 Australians. That offers opportunities in the insurance market.
Wong, an American expat who's worked in Silicon Valley and launched three startups, feels there's further scope to disrupt due to relatively few players in the market. "In general insurance, there's a natural duopoly here," he says. "There are two major players that gobble up about 65% of the market. They have multiple brands but they underwrite about 65%. That's the same in our supermarkets. We have four major banks, two major retail outlets. Depending on how you look at it, it is either a horrible place to innovate or a fantastic place to innovate. Change either comes really fast or really slow depending on which side of the road you're driving."
Dossetor adds, "Both Australian and international entrepreneurs are utilising the stability of the Australian market as an advanced technology test bed and launch market before they take new ideas or products global. For insurance, Australia is ranked 15th in terms of premium volume globally in 2020. The insurance market is characterised by a mature regulatory environment with a significant natural catastrophe exposure that represents an international diversification – bringing a strong reinsurer presence."
"[During the lockdowns], we found we were more connected to our clients and had more opportunities to connect with global insurance markets"
Lisa Carter, Clear Insurance
Grappling with government regulations
Changes in legislation can present an opportunity to distinguish oneself. So, it goes with the Federal Government's Financial Sector Reform (Hayne Royal Commission Response) Bill of 2020. The regulatory changes include a deferred sales model for add-on insurance; anti-Hawking restrictions; product design and distribution obligations; avoiding misrepresentations; breach reporting obligations; unfair contract terms; and claims handling as a financial service.
IB 5-Star Insurance Innovators award winner Clear Insurance made its mark by launching a fee-for-service remuneration model compliant with the reform bill. Meanwhile, fellow award winner FreightSafe was able to streamline claims management for the transport and logistics industry, also complying with the reform bill's claims handling provisions.  
"We had huge tailwinds during COVID and saw enormous growth as a result of it"
Jonathan Bass, FreightSafe
The path towards greater transparency
For Clear Insurance managing director Lisa Carter, there were two tailwinds at work over the past year.
First, there were the new government regulations. "In the last 12 months we've introduced the fee-for-service model," explains Carter. "And we found that our customers and our clients are seeking more transparent advice. And that comes off the back of the Royal Commission into the banking superannuation financial services industry. So, I think customers have become a bit more aware of hidden commissions."  
Throughout her 25-year career, Carter has pushed for the broking industry to move from transactional broking to advice-based services. In 2021, Clear Insurance took the risk of implementing one. At first, the company lost clients, but now after 12 months client satisfaction is high and retention rates are climbing back to 95%. The move from 100% commission income to 100% adviser fees is complete, and the business has grown 25% in the past four months.
"Clear Insurance operates with integrity and transparency," says John Bucknell, CEO of Currumbin RSL Group. "Since engaging Clear Insurance, we have felt reassured we have the appropriate coverage and advisers that have the best interests of our business at heart." 
Second, there was the pandemic. "We were already paperless," she recalls. "And our software meant that we literally just took our laptops home and kept working. So, it had no impact on the business at all. And in fact, we found we were more connected to our clients and had more opportunities to connect with global insurance markets. All of the conferences that you used to have to go to Las Vegas to attend we could attend online. It opened up so much more content and opportunity for us to connect with insurance markets overseas and interstate here in Australia. So, for us, I think it was actually great. We got to be playing with our dogs, put washing on and have a meeting with someone in the states in the same hour."

Making transport and logistics safer
FreightSafe was also affected by the regulations. "Claims management became a regulated service as a result of Haynes, and we're proud to say we were the first company in the whole of Australia to get our AFSL [Australia Financial Services License] for claims management," says Jonathan Bass, commercial director.  
A third-party claims manager for the transport and logistics industry, FreightSafe manages claims for goods lost or damaged in transit. Their real-time claims environment enables all parties to complete transparency on claims with many claims being managed in a straight-through process. All of FreightSafe's competitors still rely heavily on manual processes, says Bass.  
Like KOBA Insurance, the COVID pandemic ended up being a considerable boost for FreightSafe. "COVID was really positive for us in that there was massive movement towards online retail discretionary spending, and for every online retail order there's a corresponding parcel that is sent to fulfill that order," says Bass. "That's essentially what the commercial model works on based on the volume of freight that's moved. So, we had huge tailwinds during COVID and saw enormous growth as a result from it." 
To accommodate the growth, FreightSafe scaled its platform to manage tens of thousands of claims and frequently provide compensation in a matter of hours.
"We can manage $5 claims in five minutes, including acknowledging the claim and settling the claim just due to the technology," says Bass. The technology provides detailed analytics around the cause of the loss – for example, the drive or forklift operator – as a means of mitigating future risk in real time.
"Looking forward, we think that economic conditions are obviously changing," says Bass. "We think with increasing inflation and interest rates that discretionary spending is going to fall significantly. But that's great. We're consolidating our business. We're really, really bullish for the long-term view in terms of the Australian transport industry." 
In 2021, FreightSafe helped process 55 million freight shipments that presented 60,000 claims with only 70 employees.  
247 Systems
Advisr
ARMA Insurance Brokers Hunter Valley
BizCover
Clear Insurance
Crawford & Company (Australia)
DUAL Australia
DXC Technology
Elliott Insurance Brokers
FreightSafe
Grappler
iCare
KOBA Insurance
Norton Rose Fulbright
Parametric Insurance Solutions Pty Ltd t/as
Redicova
Verisk
Woodina Underwriting Agency
Zurich/One Path