Jump to winners | Jump to methodology | View PDF
RAISING THE BAR FOR INNOVATION
Over the past year, the insurance industry has seen a host of fast and necessary changes. Amid the COVID-19-related challenges of lockdowns, travel restrictions, lack of face-to-face meetings and general uncertainty, insurance organisations have been forced to adapt to ensure they can continue to drive business growth and deliver the results their clients expect.
Plenty of companies – from insurers to insurtechs, brokerages to claims managers – met these challenges head-on, engineering creative solutions to the problems they and their clients were facing. To find out which companies are helping to push the insurance sector forward, Insurance Business asked companies to share the visionary initiatives they've successfully launched over the past year. The efforts put forth by the 22 winning 5-Star Insurance Innovators offer a glimpse into insurance's newest frontiers.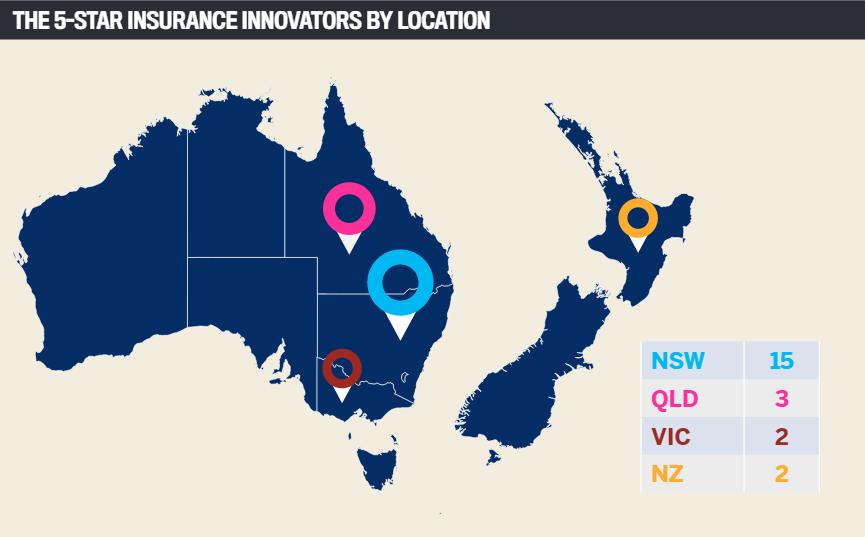 Advancements in AI
Technology was, unsurprisingly, a huge factor in the initiatives undertaken by the 5-Star Insurance Innovators. While only five of the 22 winners classify themselves as insurtechs, the winning companies are all taking advantage of the possibilities of technology in myriad ways.

Many talked about the business benefits brought by automation. Agile Underwriting, for instance, went from having only 5% of its interactions touched by automation in 2019 to having more than 95% automated on some level by 2020.

"This is the secret sauce to help us scale while providing better services to our customers, partners, capacity providers and brokers," says co-founder Ben Webster. "Agile uses AI to free our underwriters' time from data entry and manual work so they can spend more time with customers and brokers, to enable brokers to spend time on relationships, not process."

At Blue Zebra Insurance (BZI), its cash-matching robot, BIANCA, matched more than $100 million in cash collections to its core transaction database, allowing more than 99% of transactions to be straight-through processed. BZI estimates that in doing so, BIANCA "performed the job of at least 10 people." BZI also used automated underwriting to straight-through process more than 96% of its high-volume business in 2020.

Claims managers are also leveraging automation to save time and effort. Claim Central Consolidated successfully implemented robotic automation technologies to automate 23 different processes, leading to 541,796 successful transactions automated and an estimated 1,200 working days saved.

Similarly, FreightSafe has automated the initial step in its claims process, employing 'digital workers' to handle tasks such as reading and extracting information from invoices and supporting documentation. The file is then handed over to a human claims handler.

"The innovation initiatives over the last year in particular have meant that our team has been able to scale up digitally to handle the sudden boom in claims which resulted from the pandemic," says FreightSafe operations manager Tiffany Sangster. "Our claims team now have the support of digital workers, operating 24/7 on new claim submissions, to ease their manual workload and allow them to process tens of thousands of claims at incredible speed and accuracy."

And on the risk modelling side, Reask used machine learning to create a global tropical cyclone risk assessment and calculation service for parametric insurance. The firm, which launched in 2018, has already partnered with two major global (re)insurers.

"Our approach to tropical cyclone modelling combines the physics of atmospheric science with the power of global climate data and machine learning to provide a single, consistent and truly worldwide view of risk," says co-founder and chief commercial officer Nick Hassam.

Diving into data
Another notable trend among this year's 5-Star Insurance Innovators is the use of technology to improve or rethink the process of data analysis. Software company Daisee, for example, has developed conversational analytics technology that allows businesses to analyse why their customers are calling. According to Daisee, companies have historically used a 1% or 2% manual sample to evaluate how well they are servicing customers and complying with industry regulations; in contrast, Daisee's technology allows 100% of calls to be analysed and summarised, which it says has resulted in a 22% boost in customer satisfaction and an 18% increase in sales conversions for its clients.

Melbourne-headquartered brokerage Honan Insurance Group, meanwhile, used historical and real-time data and insights to create an online claims and risk portal for a client, transforming more than 10 years of claims data into big-picture trend analysis and loss forecasting, which enabled the client to make high-quality, data-driven business decisions.

"Traditionally the insurance industry has been very protective of data and sharing insights," says Andrew Fluitsma, CEO of Honan Insurance Group. "We take a different approach and believe that sharing data and analytics allows us to provide key insights to allow clients to make better and more informed decisions. This, in turn, allows for a high customer retention, as they understand the value a broker can provide them."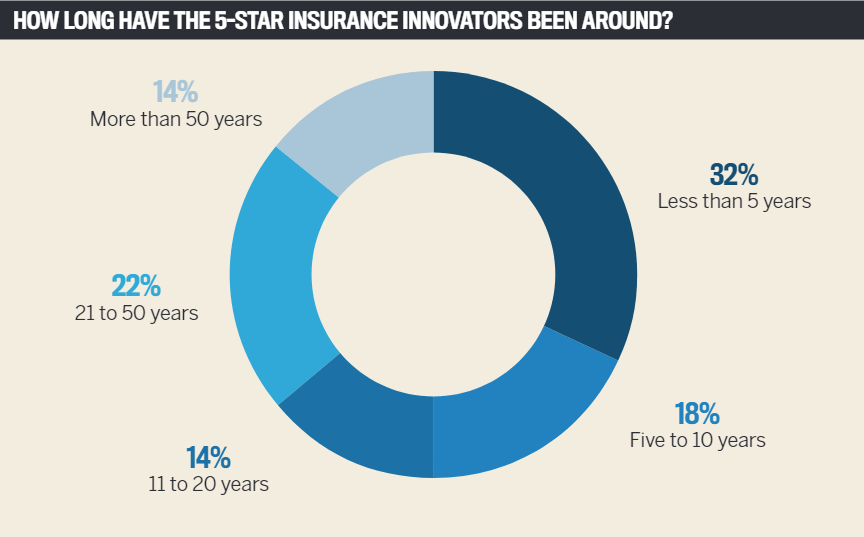 The mother of invention
When COVID-19 restrictions put an end to face-to-face meetings, organisations that were able to take advantage of communication technology to streamline or improve customer interactions did very well. Hello Claims offered support to the insurance and repair industry by making its proprietary live-streaming video assessment tool free of charge to all insurers, brokers and repairers during COVID-19 lockdowns.

"Such innovation enabled insurers, brokers, repairers and, most importantly, insureds to continue with their claims and get back on the road sooner in the most difficult of circumstances, whilst respecting the lockdown rules," says Nick Herford, Hello Claims' managing director. "This situation reinforced just how important digitisation is for the insurance industry workforce, confirming that a proactive approach is beneficial to all stakeholders."

At NTI, the challenges of the pandemic brought the opportunity to introduce new digital processes. NTI's Concierge service allows customers to upload images and information from their phone and complete repair quotes online. Not only did this enable businesses to continue working during lockdowns and other pandemic restrictions, but the enhanced process made the experience more than 60% faster for the customer. According to NTI, 51% of eligible customers used the Concierge service, and the insurer received a 94% customer satisfaction score from these customers.

Another lasting impact of COVID-19 is that it forced companies throughout the insurance industry to reconsider their working environments. For Avid Insurance Brokers, this meant closing the company's retail office and moving into a purpose-built office known as The Bunker – and also giving staff the flexibility to work from home when needed.

"Now that we operate from The Bunker, we have created a positive work environment where all staff feel comfortable to work when they choose to be on-site rather than working from their home offices," says Avid managing director Dave Katschke. "We've seen our productivity increase substantially, as we have less foot traffic compared to our previous office environment, which means that we're able to action and address clients' requests with quicker turnaround times."
Agile Underwriting Services
Ausure & 247 Systems
Avid Insurance Brokers
Blue Zebra Insurance
Claim Central Consolidated
Crawford & Company Australia
Daisee
DigiSure
FreightSafe
Grappler
Hello Claims
Honey Insurance
Preventure
Reask
Swiss Re Australia
Upcover