Jump to winners | Jump to methodology
Growing through change
The Australian insurance market is in a state of flux amid challenging circumstances, and brokerages are being forced to adapt, with ultimately only some of them thriving in the new status quo.
Industry expert Tremayne West, managing director of Australian Broker Network, lists the obstacles brokerages face:
insurer appetite changes and pricing increases

increased client cover and claim payment expectations

insurers denying claims where previously they paid

compliance requirement increases

increased costs of business

remuneration disclosure to retail clients

cyberattacks

This is echoed by Richard Crawford, CEO of Community Broker Network, who says, "If you look at the markets, the risk, appetite and capacity are changing, and as a result, people are having to look a bit harder to be able to place the risks of their customers within Australia.
"The regulations and the codes of practice have changed, and that's forcing people to change the way they operate and consider their own businesses."
Insurance Business recognises 18 Top Brokerages who are not only succeeding but also excelling in this challenging market by continuously delivering for their clients.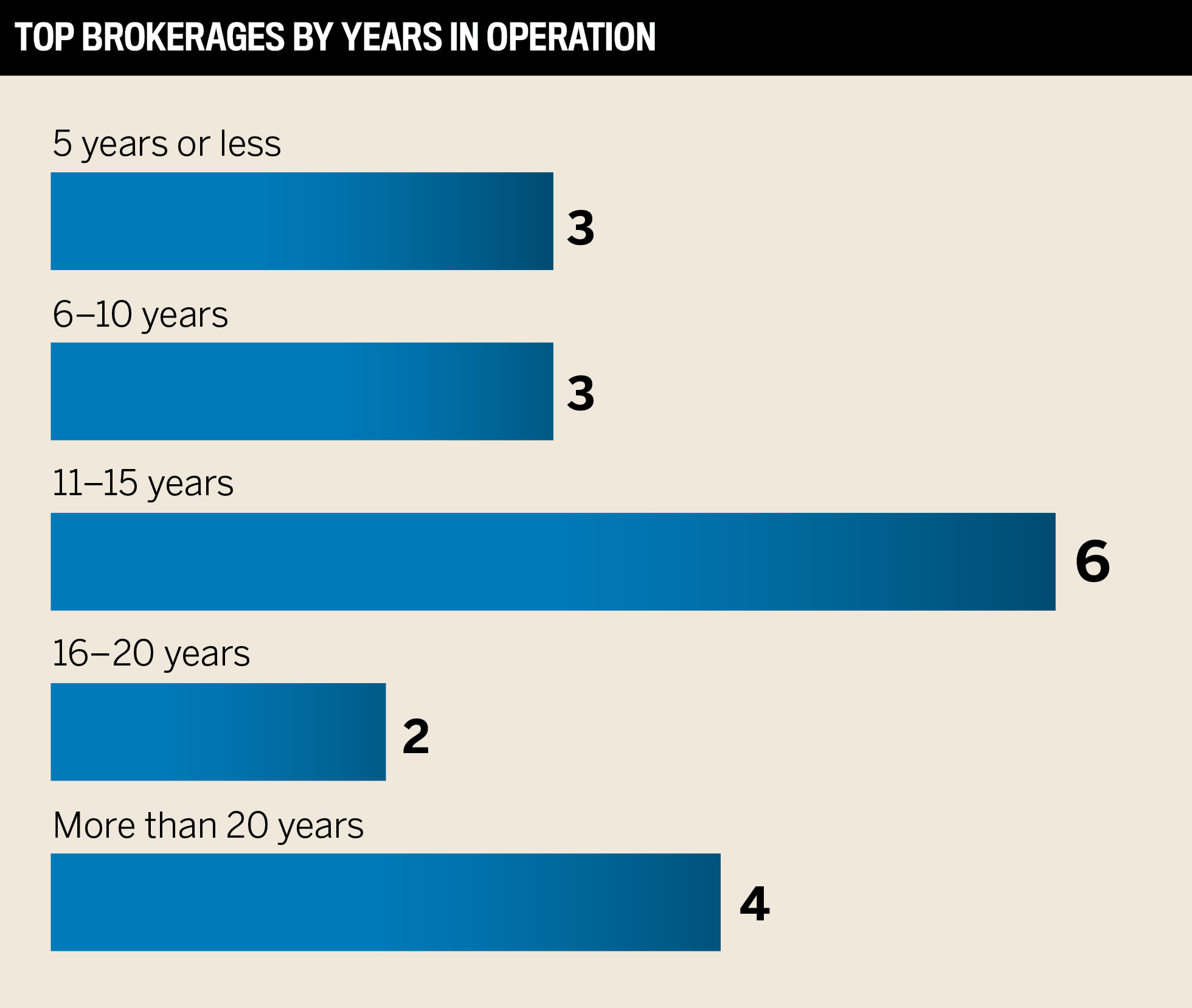 Client growth
Top Brokerage Omnisure, which has been operating for over 20 years, reveals that it credits its success to being family owned."It's no secret that small businesses have always delivered the best customer service. Our advantage is the fact that we are still small and agile, and we employ a young, eager and well-trained workforce to service our customers," says CEO Schalk Van Der Merwe.
Omnisure, which has a retention rate of over 98%, grows its clientele by:
promotion

referrals

strategic partnerships
"We do online marketing, and instead of pursuing a strategy where we market as insurance brokers in general, we go after a smaller niche market. Our specialty is in financial lines, so we've developed and purchased a website specifically around targeting occupations that purchase professional indemnity insurance", says Van Der Merwe.
Another initiative is educating its customers to help win more business.
Van Der Merwe says, "We are telling our customers that if they're happy with the work that we're doing for them, then please refer us. With that, 80% of all our work comes from current client referrals."
The firm also has strategic partnerships with accountants, bookkeepers and outsourced CFO advisory businesses.
"It really does become a true partnership with them and with their customers, where we're happy to do risk reviews, complementary policy reviews and basically give away a little bit of IP for free in terms of that relationship," says Van Der Merwe.Fellow winner Stonewell Insurance Brokers, founded in 2021, adopts a strategy of creating bespoke client plans.
Director Matthew Perez says, "We stand out due to our personalised approach, efficient response to clients and exceptional work ethic. Our growth strategies include client referrals, a strong online presence, participation in industry events and active networking, in addition to retaining existing clients through exceptional service."
While Cynthia Yap, managing director of winner Dynamic Insurance Services, focuses on:
"We've got two income streams; we're a licensee, not just a broker. I'm doing a marketing campaign to focus on that," she says. "I'm really networking and getting myself out there to make us known. It's so we can grab attention from the potential brokers out there because when they join, their clientele joins our network, and we will see exponential growth."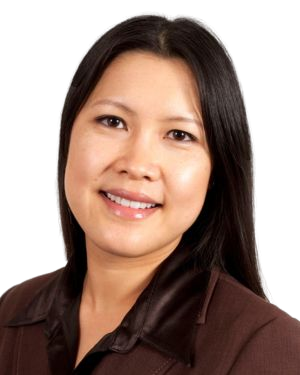 "All our new business is word of mouth and then referrals and networks. Eighty per cent of our clients have been with me between 10 and 15 years"
Cynthia Yap
Dynamic Insurance Services
Policies written per broker
Listing what characteristics a Top Brokerage should have, Crawford says, "Brokerages that are doing the best are those that have a very strong and clear value proposition, coupled with developing and keeping their staff and having a very strong compliance culture."
An example of this is Omnisure, whose policy is to rely on client needs and broker expertise.
"We get everyone's input in terms of the strategic direction of the business, especially from a customer acquisition point of view," says Van Der Merwe. "The process doesn't necessarily change, but the strategy is slightly different in terms of how quickly you need to interact with customers and how quickly sometimes they're looking for support."
Omnisure upskills its brokers by holding:
weekly Monday training and sales huddles

20-minute education segments (renewal issues, compliance issues, claims, etc.)

external training (such as NIBA, Steadfast and requiring the team to do 25 CPD points annually)

staff study scholarships
Van Der Merwe says, "We want to see our staff more educated than the minimum, and that gives us a bit of a competitive edge."
At Dynamic Insurance Services, Yap explains that their brokers are given autonomy in how they work.
"As long as they follow compliance, they can shine however they want," she says.
Yap is an advocate of organic growth and feels it pays dividends.
She says, "I don't pressure them with income. I support them so they can grow; they're not there to make money for me. Just leading them like this allows them to innovate, shine and be themselves."
The firm has plans to expand from 50 to 100 authorised representatives.
And Stonewell Insurance Brokers has its own framework, something of a hybrid approach.
"While we maintain a standardised policy selection process, our brokers have the flexibility to adapt strategies to meet individual client needs, ensuring a balanced approach between consistency and customisation.
"We also invest in ongoing training and education for our brokers, encouraging specialisation in specific insurance sectors to provide clients with tailored advice and comprehensive solutions," says Perez.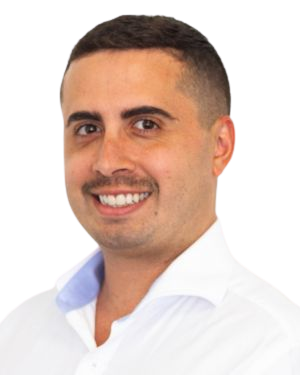 "Our most valuable assets are our dedicated team of brokers, strong insurer relationships and a loyal client base"
Matthew Perez
Stonewell Insurance Brokers
Revenue
Industry expert Crawford makes it clear that "revenue per policy is the one you really want to grow".
Having two income streams provides Dynamic Insurance Services with an edge relative to its competitors, as Yap highlights:
"Brokers come on board because they will get new business and new clients. We get a percentage of their commission and fees that they charge."

"I've grown fast because I target high-net worth clients. We pivot very fast and innovate according to the clients' needs and where it's going."

For Omnisure, building a solid relationship within the firm, regular evaluations and utilising technology are the main revenue growth drivers.
Van Der Merwe says, "We track everything through CRM on top of the Zoho platform. If we have something coming from a particular strategy, we will track it and we will track the conversion rates. So that's probably another part of how we're being successful: having the data available quickly, and then we can make decisions that benefit the business quickly."
Omnisure also has targets in terms of gross income percentages for both commissions and fees.
"We also have a dashboard through Steadfast, which gives us data overnight, and that gives us an indication in terms of how our margins and our income per policy are tracking on a day-to-day basis," Van Der Merwe says.
While Stonewell Insurance Brokers' future plans include:
expanding into key markets

diversifying product offerings

leveraging technology to enhance customer experience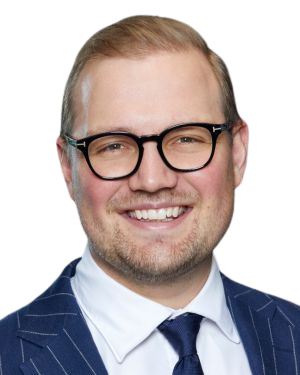 "Trust your people, invest in those people and give them the experience they need to become the future leaders in your own business"
Schalk Van Der Merwe
Omnisure
Industry insight
Despite leading the way, even IB's Top Brokerages of 2023 have challenges that impede their progress.
Below is a list of feedback from nominated firms on some issues they are working to overcome:
"Lack of new products in a hard insurance market based on customer demand, for example, insurance for blockchain businesses. We're struggling to find suitable products for reasonable prices for our clients when these products are unavailable."


"The risk appetite from local insurers and capacity to follow, especially in FNQ building costs, plus ongoing catastrophe losses, mean it's hard to forecast any budget a year out. Also, in recruitment, it's a challenge to provide hybrid roles from the outset."


"Keeping pace with a world that's going full steam ahead into the digital age. Our clients aren't just hoping; they're expecting us to keep up. We're trying to keep our feet in both worlds: embracing the digital revolution without losing our human touch."


"Facing changes due to advancements in technology and shifts in the insurance industry, mainly with AI and algorithms streamlining administrative tasks of data entry, we need to increasingly focus on proactive risk management and prevention strategies. We have to adapt to evolving regulatory requirements, such as data privacy and cybersecurity regulations."


"Insurers are busier than ever because they are getting more quote requests from brokers, leading to quoting delays. We have also identified a rising number of buildings with defects, and insurers are taking firm stances on requiring prompt action to address these defects."


"The placement process is hard for the majority of our clients. It is a daily occurrence to receive responses from insurers declining or increasing premiums by up to 70%. Our renewal process has needed to be reviewed as we need to allow more time in the process for seeking new underwriters to reduce the cost of the policy."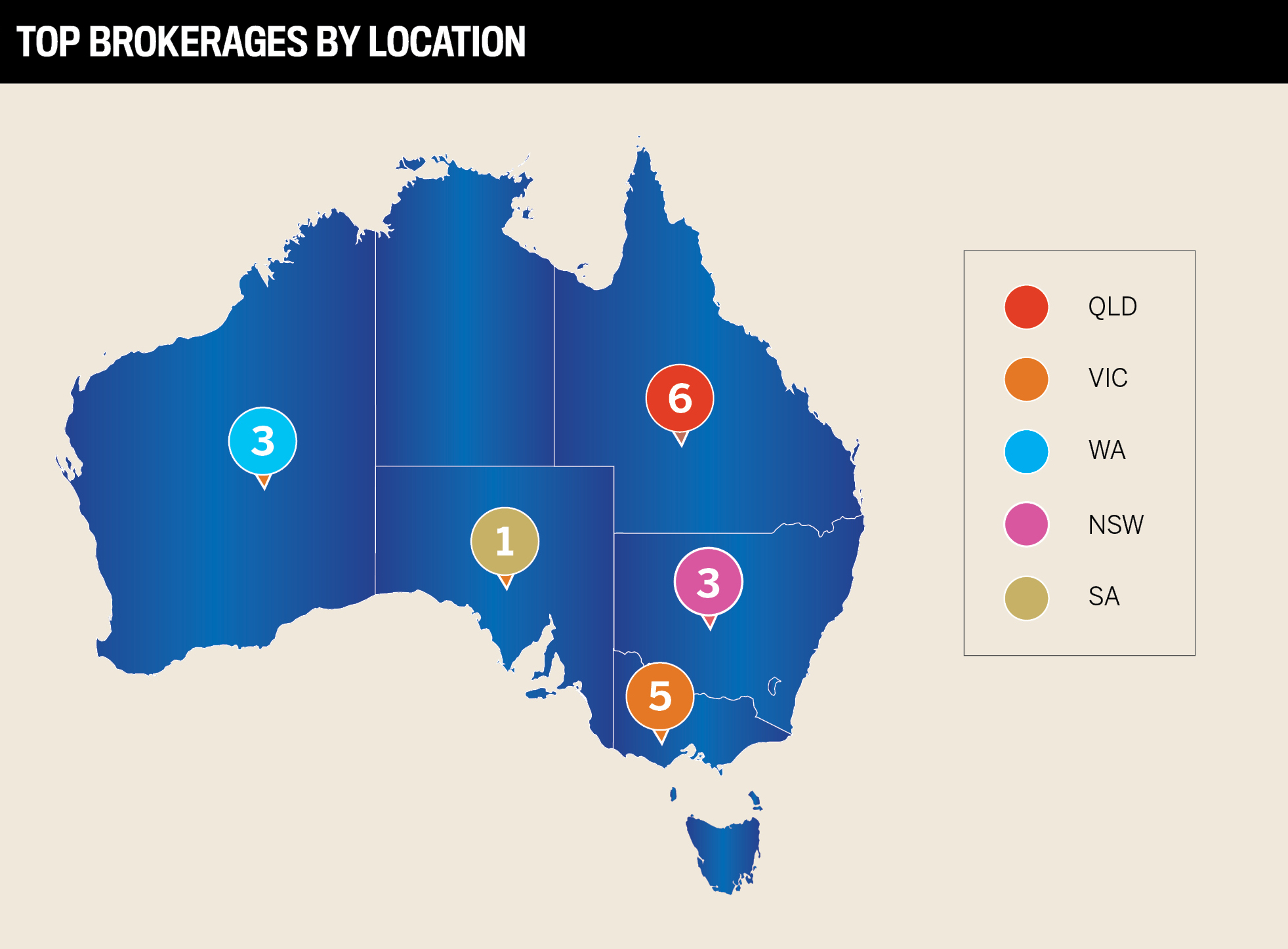 Bell Partners Insurance
CCM Insurance Group
Consolidated Insurance Brokers
DKG Insurance Brokers
Elliott Insurance The Green Broker
Honan Insurance Group
Knightsbridge Insurance Group
McLardy McShane
National Credit Insurance (Brokers)
Simplex Insurance Solutions
Stewart Insurance Group
Strata Insurance Solutions
Westside Insurance Specialists
Best Insurance Brokerage Firms in Australia | Top Brokerages 2023 – Listing in order