IB 4.06 | Insurance Business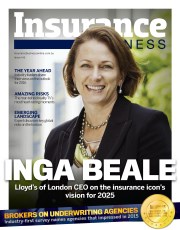 Brokers on underwriting agencies
For the first time,
Insurance Business
asked brokers to rate the underwriting agencies in Australia that impressed them most in the last 12 months. Which agencies won a spot on the medallist's podium in the inaugural
Brokers on Underwriting Agencies
survey?
Modernising Lloyd's
In our exclusive interview, Lloyd's of London CEO
Inga Beale
talks about the insurance giant's Vision 2025 strategy, including its modernisation agenda and the goal of becoming a truly diverse marketplace
Amazing risks
For almost 15 years,
The Amazing Race
has been one of the world's most popular and critically-acclaimed reality TV shows. Sydney's Paul Chivers talks about his crucial role in making the show that audiences across the globe continue to love
The Year Ahead
What's in store for general insurance in 2016?
Insurance Business
asked 12 leaders from across the industry to provide their insights as to what can we should expect in the year to come
Emerging landscape
Trevor Maynard discusses Lloyd's of London research undertaken in recent times to better understand key global emerging risks – what they are and why they pose such a significant threat to the international community
No further extensions?
Matthew Curll, lead partner on law firm Hall & Wilcox's general insurance team, explains why he thinks cyber extensions on professional indemnity policies will potentially become a thing of the past
Averting tragedy
How can the Australian insurance industry – and the wider business community it serves – prepare for the potential impacts of climate change?
Insurance Business
asks experts to weigh in on this vital discussion