IB 5.05 | Insurance Business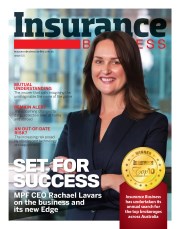 Set for success
Insurance Business talks to Rachael Lavars, CEO of Macquarie Pacific Funding, about business initiatives in recent times, the opportunities the funder sees in today's market, as well as its next generation Edge platform, which will soon be rolled out to brokers

Top 10 Insurance Brokers 2016
Insurance Business has conducted its annual search for the top-performing brokerage in Australia. So, from all entries received, who came out on top?

Mutual understanding
Commercial property insurer FM Global prides itself on thinking differently. Two of its leader talk about what sets this mutual insurer apart

Selling lemonade
Said to be the world's first peer-to-peer insurance carrier, Lemonade has now opened for business in the US. What's on offer from this new player?

Remain alert
What new EU data protection legislation must local businesses with European customers be across? And what's the status of Australia's proposed mandatory data breach notification scheme?

Promoting women in insurance
What work is currently being undertaken by several insurance employers in their efforts to ensure more women rise to the higher levels of their organisations?

Convincing the brand detectives
New research shows the high value jobseekers place on company brand when selecting an employer. How can insurance employers build their brand?