Hurdling the Tokyo Olympics | Insurance Business Australia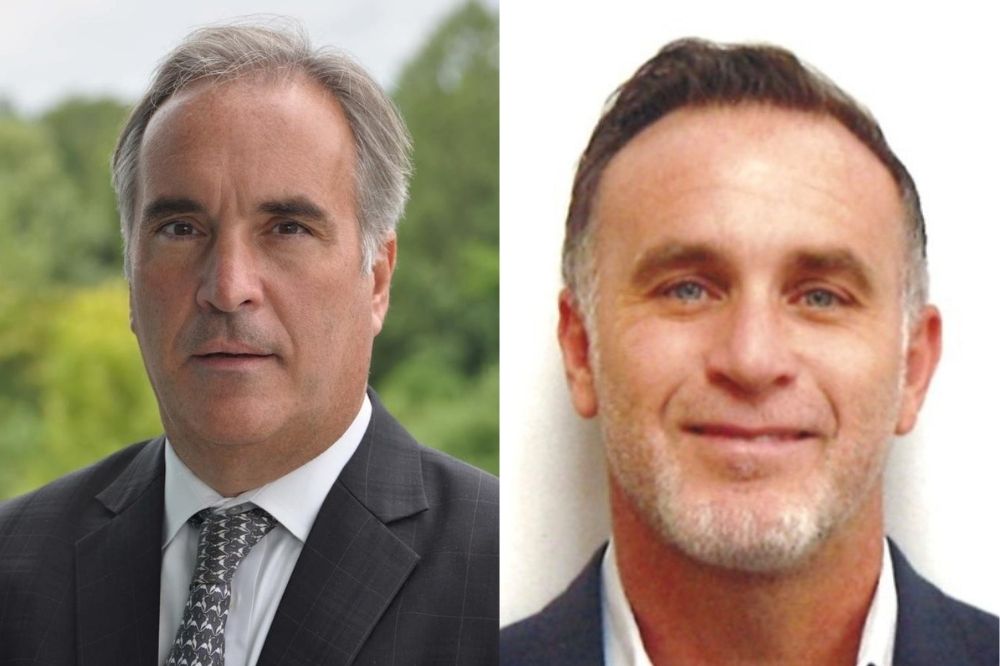 "Barring Armageddon that we can't see or anticipate, these things are a go." Those were the words of senior International Olympic Committee (IOC) member Richard Pound during a recent interview discussing the upcoming Tokyo Olympics. Ever since the Games were postponed in March 2020, the question on the lips of organisers, sponsors, athletes, insurers and the public has been whether the Olympics will be postponed again or even cancelled.
It's a pertinent question, given the variety of risks posed by running an international event of this scale during a global pandemic. According to Dr. Robert L. Quigley, SVP and global medical director at International SOS, "the biggest trial, beyond the obvious economic and political considerations, will be maintaining the health and safety of all involved, including the athletes, local specta-tors and supporting staff. To mitigate against health risks associated with the event, the IOC is working with the city of Tokyo, the government of Japan and the World Health Organisation to make the Games as safe as possible. The committee has also issued a series of playbooks with advice on practices like social distancing, mask-wearing, testing, hygiene, etc. Japanese healthcare officials have been promoting these best mitigation practices since the declaration of the pandemic, and they cannot be overstated."
Overall, Quigley says, the Games will be smaller and look different from previous years, especially with officials effectively banning spectators from outside of Japan. That restriction didn't come as a surprise, as much of the world remains unvaccinated, including Japan, and variants of COVID-19 continue to spread across borders.
Paul Gilbert, director of McLarens' global entertainment and contingency practice group, points out that by the time the first international athlete has checked into the Olympic Village, event organisers will have almost a year's worth of lessons from the successful implementation of various live sporting events during COVID-19. These include the NBA 'bubble' in Orlando, Florida, in 2020; the English Premier League; the Nippon Professional Baseball seasons; and the recent PGA Championship, which was held with more than 10,000 fans and softened social distancing and mask requirements. Because of this, Gilbert says, Olympic organisers now have a massive amount of knowledge on how to keep athletes, coaches, vendors, broadcasting partners and fans safe and healthy.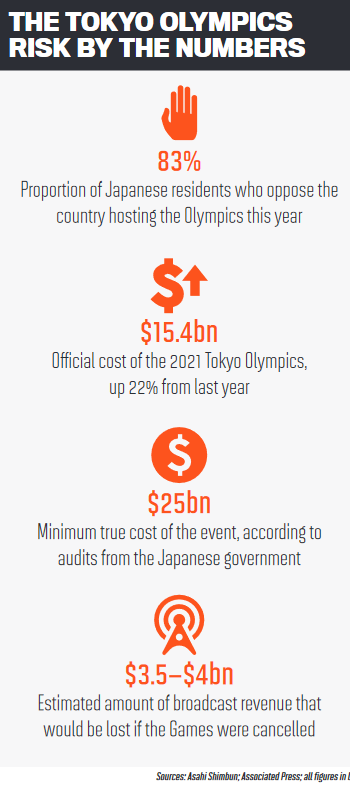 "If you told organisers and their insurers, 'The only risk you have to face is that of COVID-19,' I think it would be a challenge they could confidently assess and manage," he says. "Rapid testing is readily available and reliable, athletes and others exposed will be vaccinated at high percentages, and mitiga tion efforts such as social distancing and face coverings have been proven highly successful. These risk mitigation measures have all been in practice throughout sports, broadcasting, food and beverage service, hospitality, logistics, and social gatherings for a long enough time to make sure best practices are followed and the events can continue as planned, although with very important modifications and protocols."
However, Gilbert says, COVID-19 is far from the only risk at play – organisers also have to deal with the more traditional risks associated with live events of this scale.
"There are weather threats with the Olympics being held during Japan's typhoon season," he says. "There are ever-present terrorism threats, which a worldwide stage such as the Olympics provides a venue for. There are political and social justice risks worldwide that cause Olympic organisers concern. And finally, you have a global transportation system that is not yet fully open, and asking nearly every country in the world to send their Olympic personnel to Japan while there are travel restrictions in place could cause a problematic absence of marquee Olympic talent."
And there are always other medical and security risks that could affect athletes, local spectators and Japanese residents, Quigley says. This requires individuals to implement certain safety measures, such as planning trips well in advance and taking sensible security precautions to mitigate against the risk of petty and street crime, especially at heavily congested transportation hubs and in crowded public spaces.
Possibly the most pressing risk facing the Games, Gilbert says, is the growing sentiment among residents, the medical community and the business community in Japan against holding the event.
"While this internal risk is the one that stands out as having the greatest likelihood to impact the events, the external concern of countries not sending their athletes, broadcasters and high-value sponsorship partnerships could equally affect the legitimacy and integrity of the 2021 Olympics," he says. "Organisers do not want a situation where every medal platform ceremony comes with an asterisk because the sport's biggest stars are not present."