#MeToo opens up new risks | Insurance Business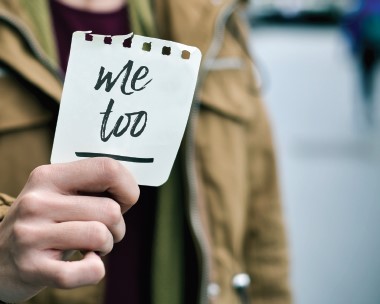 As the #MeToo movement seeks to establish a culture of corporate accountability, organisations are facing an increased need for better risk management and more robust EPL coverage
The #MeToo movement has dominated international headlines since the hashtag first went viral last October, and it brings with it some significant business risks and insurance implications. Workplace issues such as bullying, discrimination and harassment have come under the microscope, presenting a far more significant concern to organisations than they did just a year ago.
Companies today face both employment and reputational risk as a result of these issues, says Eleni Petros, employment practices liability insurance practice leader at Marsh. While employment-related issues have traditionally been seen as the responsibility of HR, the increased awareness in society means they are quickly climbing the risk agenda.
"#MeToo is more than just an employment risk for companies – it's also a risk facing boards," Petros says. "This is no longer just an HR issue … it's one of the many risks that a company needs to consider. In the same way that cyber risk isn't just about the IT department, it's about the board too, this is another example of that."
"We are seeing more of an interest in EPL coverage … because defending these claims can be extremely costly" - Eleni Petros, Marsh
The #MeToo movement has already produced litigation, particularly in the US, including some high-profile examples that have involved significant financial damage. The Weinstein Company, whose disgraced ex-chairman Harvey Weinstein has been accused by more than 70 women of numerous counts of sexual harassment and assault, filed for bankruptcy in March as a result of the scandal.
In that light, employment practices liability [EPL] insurance is becoming increasingly important and is already seeing a growth in demand, Petros says.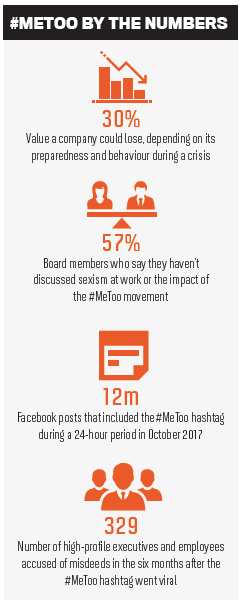 "We are seeing more of an interest in that coverage from companies than we used to," she says, "and I think the reason for that is because defending these claims can be extremely costly for companies."
While the claims environment for EPL has been benign in recent years, that is slowly changing. As a result, underwriters are beginning to take a closer look at companies seeking EPL cover to make sure they're fostering the right kind of culture.
"From talking to underwriters … I definitely think that when they're looking at EPL insurance, they will put more scrutiny on the kinds of questions they ask companies and will place more emphasis on the training programs that are in place at these firms," Petros says.
That includes evidence that a company has diversity and inclusion policies in place and provides unconscious bias training to employees.
"If you have a situation where the culture isn't right top-down," Petros says, "then the danger for boards and directors is that the claims against them will be 'you knew this conduct existed and you did nothing about it.'"
Reputational crises are increasingly a threat to businesses in the post-#MeToo era as well. Thanks to social media, an incident inside a company can become a viral sensation overnight – and can directly impact that company's bottom line.
Recent research from Aon uncovered that the direct impact of reputation-related events on a company's stock price has doubled since the introduction of social media. In times of crisis, investors often use information about a company shared on social media to reassess their expectations of future cash flow. Ultimately, Aon found, companies could boost their value by up to 20% or lose up to 30%, depending on their risk preparedness and behaviour in the immediate aftermath of a crisis.
"Savvy companies that develop and use a robust risk management framework … can often see a net gain in value post-event" - Randy Nornes, Aon
This points to a need for companies to carefully manage their risk in this area. A significant gender pay gap, for instance, could severely damage an employer's brand and reputation, Petros says, potentially leading to disgruntled shareholders claiming that senior management failed to properly manage reputational risk.
"It will raise scrutiny," she says. "If companies have a massive gender pay gap, I think there will be questions raised by employees as to whether they are being paid the same amount of money as the person next to them."
And although reputational risk continues to weigh on corporate executives as one of their leading concerns, says Randy Nornes, enterprise client leader at Aon, risk management tools have evolved, allowing companies to better meet this risk head-on.
"Savvy companies that develop and use a robust risk management framework can not only better navigate reputation events, but can often see a net gain in value post-event," Nornes says.