Creating a titan | Insurance Business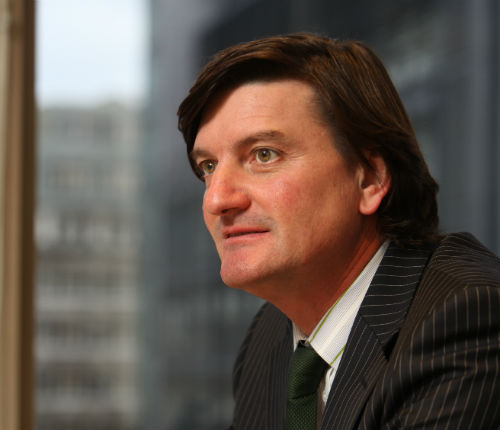 Hyperion Insurance Group CEO David Howden shares how he turned a small business into a global empire and offers some advice on what it will take to survive in tomorrow's industry
David Howden began his insurance career at the age of 16. Starting out as a broker, Howden went on to establish Hyperion Insurance Group in 1994, which was originally a wholesale broker that employed three people. Today, Hyperion has more than 3,800 employees working in business units across the globe and achieved £542m in revenue last financial year.
So, what sets Hyperion apart from its competitors? "We have employee ownership at the heart of our insurance and MGA business, and that's really the key to it," Howden says. "Because we're owned by the people working in the business, we have a culture that's different; we're much more entrepreneurial [and] much more empowering … [and] the talent we have, to be blunt, is second to none."
Howden also emphasises the crucial importance of expertise.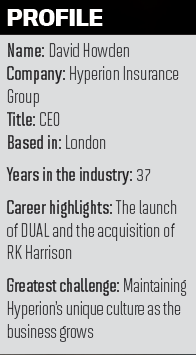 "Clients want to buy expertise, so we are specialists; we are not generalists," he says. "Wherever we're in an area, we want to really own that area [and] understand what it is … When you go around the group across the globe, we have people who are really expert in what they do."
Howden points to the business's ongoing success in fostering organic growth – in 2017, its organic revenue growth was 8%. "You can grow by buying businesses – and we grew 25% last year because we did buy some businesses," he says, "but the reality is that organic growth is the barometer of the healthy business."
Part of that growth is a result of Hyperion's mounting success in Asia Pacific.
"One of our fastest organic-growing areas is in the Asia Pacific market. It's well over 20% of growth organically and about 14% of our group's total revenue has come from Asia Pac. So, it's a very important part of our business, and one we're investing in heavily, both on the underwriting and the broking side."
Reflecting on Hyperion's 24-year history, Howden singles out the 1998 launch of DUAL – now the world's largest international underwriting agency – as a highlight.
"Clients want to buy expertise, so we are specialists; we are not generalists. Wherever we're in an area, we want to really own that area [and] understand what it is … When you go around the group across the globe, we have people who are really expert in what they do"
"We launched DUAL in Spain," he says. "I think it was something that was really key to the development of the group – having this ability to create an MGA where we were able to offer a really specialised service in products to brokers. I think this was a gamechanging moment for the group."
Another game-changer was the 2015 acquisition of RK Harrison [RKH]. "I tried to buy them for many years," Howden says. "RKH were the outstanding specialty broker."
An evolving industry

Looking to the future, Howden shares what he calls his '3D vision' – factors he believes are now driving the world of insurance.
"Those three Ds are distribution, data and delineation," he says. "I think distribution is absolutely key, and that can come about many different ways. The use of data now – not just in insurance, but in all industries – is going to be a driver [of ] not only what clients want, but pricing, efficiency, everything."
When it comes to delineation, Howden muses: "Are we going to be Uber-ised? Is it going to be the insurers? Is it going to be the brokers? I think that as an industry, we need to look at our efficiency levels. On average, something like 50% of the premium is being spent on delivery of the product … There are people who will look at that and think, 'I can actually take something out of that.'"
But is Howden genuinely fearful that the industry will be completely disrupted? "I don't think that's going to happen," he says. "There is a very real risk that some people have got very good data that some insurance businesses might not have, so I think that capturing of data and the use of it to give our clients a better service and to be more efficient is going to be what sorts winners from losers in the future … Data will drive our ability to offer better products, more efficient products [and] better pricing."
Pricing and efficiency, he adds, will be even more important going forward.
"How do you price things? Who's going to be better at pricing?" he says. "You've then got the whole efficiency element in terms of policy issuance, claims [and] how much you're using robotics. I think brokers and underwriters who can embrace and invest in all those areas will succeed, and I think, as an industry, we shouldn't be looking …. to fight and decide who's going to eat each other's lunch. We must pull together and make sure there isn't a third party coming along and taking it all away whilst we're squabbling over there."
Capability and customer-centricity
It will also be vital, Howden says, to maintain a focus on the client.
"Those brokers who put the client first will win," he says. "A chairman I worked with in the past, Richard Elias, said to me, 'David, look after the client, and the money will look after itself ' … You must focus on the benefit for the client, not the benefit for you as the broker."
Howden also stresses the importance of adding value through expertise, which he believes has allowed MGAs and underwriting agencies to make headway in the market.
"MGAs are able to do a few key things," he says. "They're able to attract real talent – talent that wants to come in and be a bit more entrepreneurial. They're able to have a real specialty as their focus; the whole management team is focused on delivering that, [and] sometimes they're able to … deliver a better level of service to the brokers and therefore to brokers' clients.
"I think anyone who's nimble and flexible and embraces technology will be a survivor," he adds. "It's probably the slightly more lethargic, bigger businesses that are going to be more challenged in the future."
Speaking of the future, now that Hyperion has surpassed the £500m revenue mark, Howden is focused on the next leg of the journey. In December, institutional investor Caisse de dépôt et placement du Québec [CDPQ] agreed to invest more than US$400m in Hyperion to provide new growth equity and liquidity to existing shareholders.
"Now," Howden says, "we're looking forward to: 'When's that billion [in revenue] coming up?'"