The local advantage | Insurance Business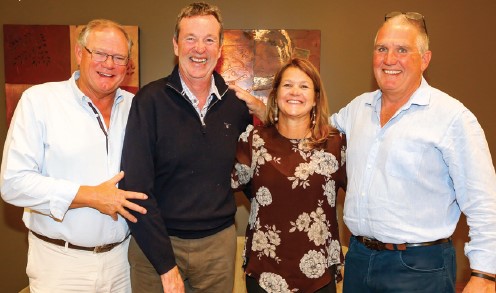 McLardy McShane co-founder Don McLardy tells Insurance Business how his firm has found success by focusing on regional opportunities and always putting people first
Since beginning life as an authorised representative of Insurance Advisernet, McLardy McShane Insurance & Financial Services has sought to forge its own path in the insurance world – one that's built around people, rather than profits. This approach is evidenced by the firm's heavy focus on branches in regional areas around Victoria and NSW, along with authorised representatives to service other areas of the country.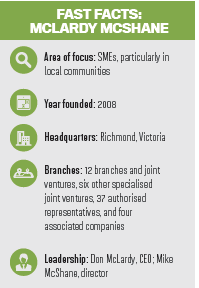 Seven years after making the split from Insurance Advisernet, McLardy McShane's community-minded move seems ingenious. Yet like many innovations, it was born out of necessity. When co-founders Don McLardy and Mike McShane first broke from Advisernet, they were bound by a non-compete clause. But the pair had experience working in regional areas around Victoria, thanks to time spent together at Oamps (now Gallagher), so a regional focus seemed like the best bet.
"To start with, we just focused on building regional branches, while working in conjunction with locals to ensure there was authentic community investment," McLardy says.
It proved a natural fit. Word of mouth began to spread; because both McLardy and McShane had already worked in insurance for close to two decades prior to their new company's formation, they were both already well known in the industry.
"Virtually all of our staff and clientele have come to us by referral," McLardy says. "People knew us, and I guess they liked us."
The non-compete clause has long since lapsed, and McLardy McShane now has 37 authorised representatives around the country, in addition to 12 branches in Victoria and NSW. The future looks promising, too: The company plans to open a number of new branches in Western Australia and Queensland over the next 12 months.
"There are a lot of good insurance brokers out there who want to run their own race but need the support of a bigger company ... We can provide that"
McLardy McShane's success is not a fluke; it rests upon a number of core values that help endear the firm to the communities it works in. Having witnessed a remarkable amount of change during his lengthy stint in the industry, McLardy feels the main functions of insurance providers remain much the same as they always have. Technology has changed and shifted, and the world has changed with it, yet the fundamentals of the business endure.
"Nothing's really changed in terms of what we need to deliver," McLardy says. "The big change has been in how it gets delivered. Everyone's aware technology is vital, and we work hard to establish the best possible internal processes."
Yet processes alone don't make a business, so the firm's embrace of technology has not been at the expense of its core values. In particular, McLardy McShane maintains a resolutely old-school approach when it comes to client interactions.

"We still very much believe that the client/ broker relationship is a really valuable one," McLardy says. "Technology can't replace real one-on-one advice, and we know our client base wants to talk to someone who can steer them in the right direction – someone they know and trust with all their assets."
McLardy sees this approach as key to the firm's continued expansion and success. As a business that deliberately aims to avoid being profit-driven, giving back to the communities it is present in remains a paramount priority.
"We're not about growth just for growth's sake," McLardy says. "There are a lot of good insurance brokers out there who want to run their own race but need the support of a bigger company while still being able to retain their identity. We can provide that."
These tactics are aimed at rebuilding small business in regional areas, enabling them to flourish through high-quality insurance products. McLardy McShane branches are intended to be at least 50% owned and operated by locals – working with and alongside the community, rather than dominating it.
"We want to be about people who own part of the business with us, and we give back to the communities we operate in," McLardy says, "and hopefully have a lot of fun on the way."