A more thoughtful approach | Insurance Business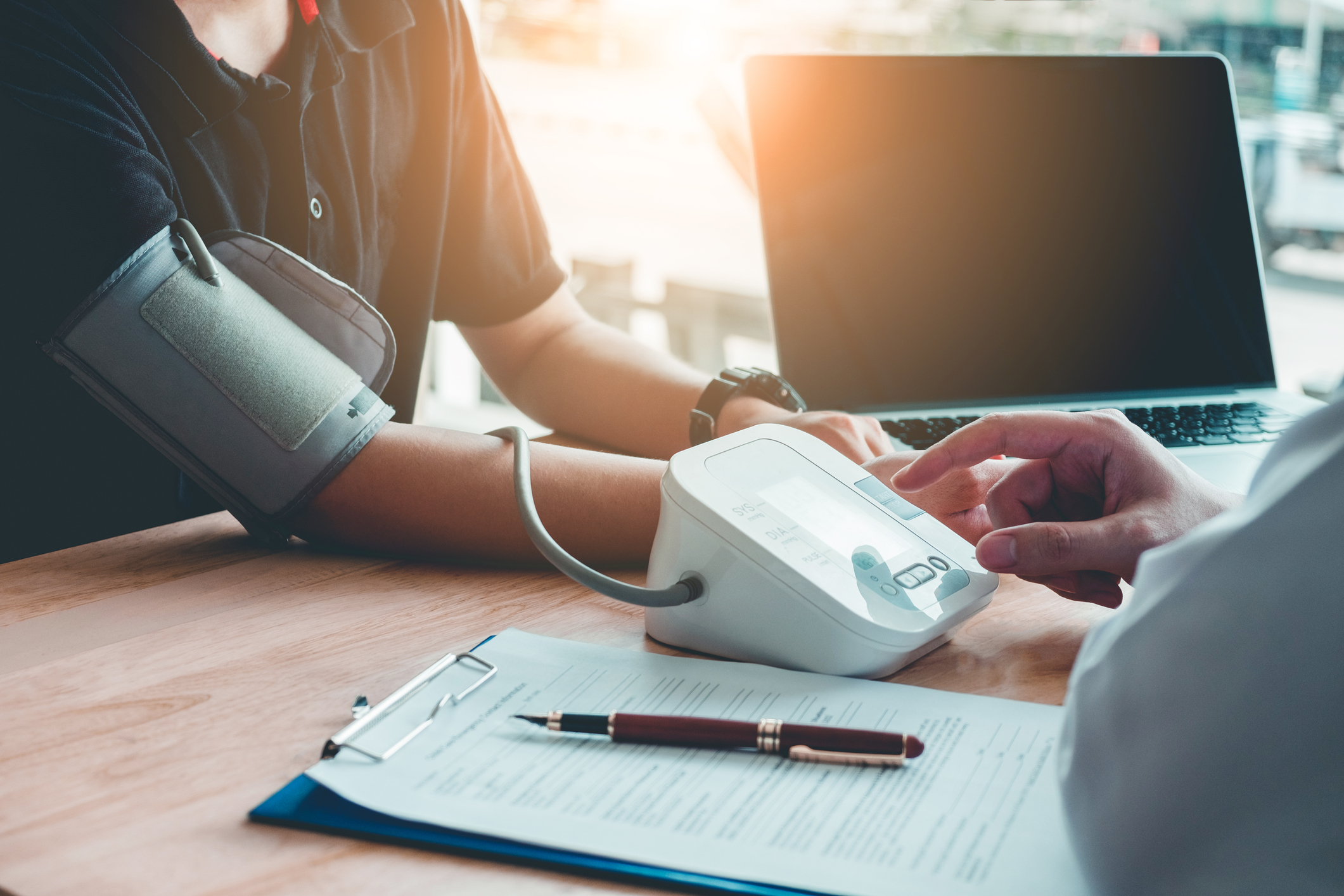 In just a couple of years, Blend Insurance Solutions has established itself as a digital underwriting agency specialising in accident, sickness and travel insurance. For CEO Chris Newing, it's an opportunity to help shape a product class that has often been misunderstood by both industry insiders and outsiders.
"To be quite blunt, we felt that poor service levels and lack of product differentiation had created room for a new entrant into the market," Newing says. "We wanted to be a company that was focused on going above and beyond rather than just doing the same old stuff again."
Blend's products can provide cover for a broad variety of people-related exposures, including injuries resulting from accidents outside of the workplace, which might not fall within the scope of workers' compensation. Newing points to situations such as commuting to and from work or volunteering for charity as two examples.
"We also provide a solution for topping up cover available under workers' compensation," he says. "It's for individuals and businesses alike who are looking to protect income above and beyond the usual limits.
"We are a thoughtful business; this means we have purpose to everything we do," he adds. "We always want to maintain customercentricity and an ethical stance. It's easy to fall into just transacting business, but as an industry, we need to do better than that."
Solutions that solve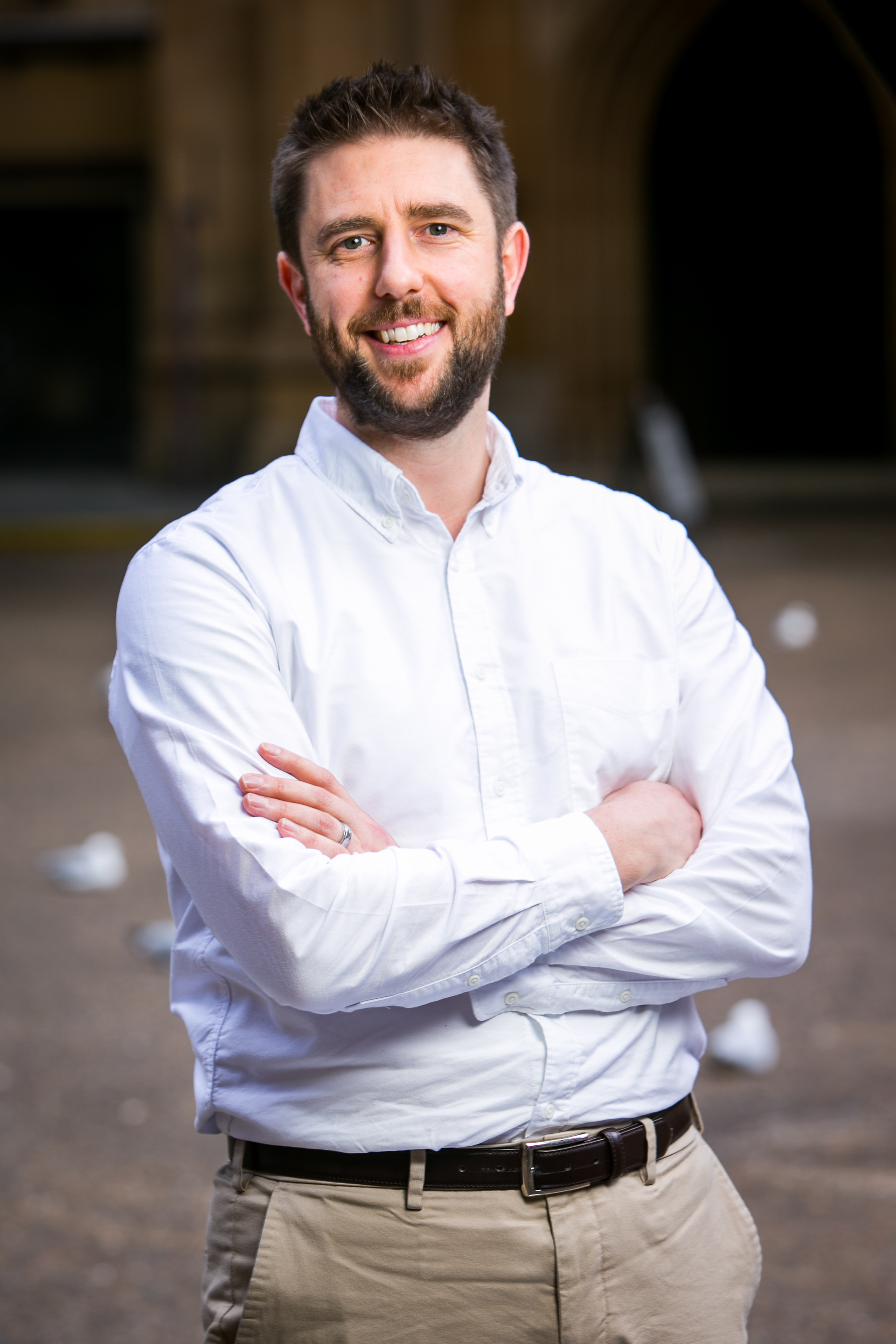 This attitude informs all of Blend's client interactions. Newing stresses that brokers' service expectations shouldn't be any different to consumers', and bringing a high-quality approach to the field means being flexible when working alongside brokers. Therefore, Blend seeks to act as a product expert to provide brokers – and, in turn, their clients – with the tools they need to succeed.
Building effective relationships is also essential to the process; after all, how can brokers recommend solutions to clients if they don't know they exist?
"Part of working with brokers means sitting down with them and taking a thoughtful approach to how we construct, establish and design solutions," Newing says. "Our approach is to be open, transparent and consultative with all broker interactions. Most of the time, it's about listening to the broker and shaping the solution together, so our job is to quickly establish, fit and execute."
"We wanted to be a company that was focused on going above and beyond rather than just doing the same old stuff again" Chris Newing, Blend Insurance Solutions
Newing is also aware that despite the increasing focus on technology in insurance, many brokers are still somewhat traditional in their outlook.
"Many brokers with more traditional methods may actually be stronger technically or have relationships that we could help add value to, so our business is designed to service the full spectrum," he says.
While technology plays an important role in the modern insurance landscape, Blend doesn't want brokers to feel like they're being forced in over their heads with unfamiliar tech. That's why the company has ensured that brokers are able to access its products on their terms, whether that's by emailing their submission/quote request; logging into the broker portal for self-service quotes, bind and claim notification; or integrating Blend's products via their own systems and embedding Blend's systems into their websites.
By ensuring that its products and services are truly omni-channel, Blend can cater to a wide range of intermediary business models.
"Insurtech is a word we hear often, but fundamentally, it's referring to being more efficient in the way that we as an industry serve," Newing says. "It's more about being ready and serving our partners via channels they're already comfortable with and have built their business around – a complementary approach."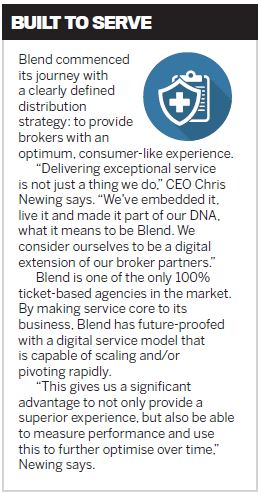 Rethinking relevance
Since its formation, a key focus for Blend has been clarifying and creating better people risk solutions for brokers and insureds alike. Newing sees employee benefit programs as an opportunity for an employer to provide additional value to employees. It's a natural extension from the accident and sickness space, given that these are features often incorporated into employee benefit programs.
Newing is quick to point out that employee benefit programs encompass more than just offering fruit in the office kitchen or discounted gym memberships – they should be comprehensive, covering facets such as healthcare, income protection and injury prevention.
"In Australia, we have a heavily regulated and mature market when it comes to employee benefits," Newing says. "As such, compared to other countries, Australian businesses have the opportunity to design employee benefit programs more organically with involvement from the workforce, providing greater choice and relevance to the end user of the product.
"Some of the traditional and long-standing examples we see in the workplace are agreements struck between a union and employers. We don't always think of them in this context, but if you look at them more closely, you'll see by that they often do include benefits like income protection or specific healthcare benefits."
However, Newing notes that difficulty often arises with employee benefit programs because employees aren't up to speed with what's available to them.
"These arrangements are often made behind the scenes of day-to-day office life," he explains. "If you're heavily involved in the union or other areas of office admin, you might have some more insight, but lots of employees are simply not engaged until the time it comes to use them."
Whatever the cause, the result is often the same – benefits go unused, and the renewal of such programs by the employer becomes a rubber-stamping process, rather than a genuine assessment of employee needs. However, personalisation is becoming increasingly crucial.
"We have a situation where employees have access to cover for certain things under a policy held by their employer via provision in the Insurance Contracts Act," Newing says. "But that hasn't necessarily been done in consultation with the employees. Is the cover aligned with or valued by those who have access to it?"
It makes sense, Newing adds, for insurers and brokers to provide a way to engage employees in the consultation process for a better outcome, which he believes is best accomplished via digital insurance models. There are regulatory and cultural considerations at play, and Newing urges brokers to have the necessary conversations with their clients when they're discussing options for cover as part of their employee benefit programs.
This can cross a broad range of activities. For some organisations, it will be as simple as checking whether their insurance is in line with best practice and regulatory requirements for their industries. In other cases, it will be a more detailed process of employee engagement, consulting with individual staff and their broker, looking at the successes of other companies, and gauging the overall priorities of the business itself.
Nonetheless, Newing is optimistic about the prospects within the field. As more businesses strive to build a reputation as an employer of choice, employee benefit programs can be a drawcard for top talent, rather than simply a checkbox for the business.
"We're here and ready with validated solutions," Newing says. "We want to make sure companies aren't just doing the same thing over and over again – now's the time for businesses to review their policies and for intermediaries to feel supported to present and deliver innovative and valuable solutions for their clients."