Hard times for hospitality | Insurance Business Australia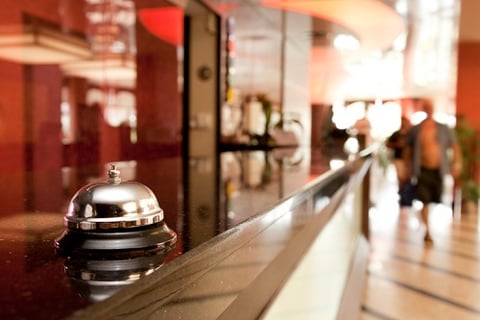 COVID-19 is rearing its ugly head again. Victoria is in an extended state of disaster, and much of the rest of the country has been slowly grappling with increased cases. For those in the hospitality industry, the resurgence of COVID-19 represents a grave threat to their businesses, depending on where they're located. Insurance Business spoke to three brokers from across the country to discover how their hospitality clients are faring during one of Australia's biggest economic disruptions in more than a century.
Mike McShane, director at McLardy McShane, says this year has been "a disaster" for his clients. Just as the first wave of COVID-19 was beginning to ease in Victoria and restrictions were loosening, a devastating second wave mounted, prompting Premier Daniel Andrews to declare a state of disaster in Victoria at the start of August. "It is incredibly sad and devastating for a lot of businesses," McShane says.
"It was made worse by the fact that we opened up for two weeks, and businesses got a taste of what life was going to look like when they're back to normal. All the businesses thrived in those two weeks when things got back moving, and it really just whickered their appetite for what was looking like everything being OK again.
"The reality is that some businesses will close, and that's the sad truth, but the ones I'm talking to, I'm amazed by their resilience and optimism" Mike McShane, McLardy McShane
"But then to have that carpet pulled out from under you is almost worse than not having opened up in the fi rst place. It really has put certainly a physical barrier for people entering their businesses, but also from a mental point of view, it's really taken the wind out of their sails, which is really sad."
While McShane says the hospitality industry has proved to be "incredibly resilient" during these unprecedented times, his clients were still having to remove sta from their payroll. Many had to let go of all of their casual employees just to survive on JobKeeper.
"JobKeeper is still playing its part, which is good, but the ones with single venues are the ones that are really fi nding it hard," he says. "Most hotels would have a number of key sta and a lot of casual sta , and their real focus is making sure they keep their key sta almost without exception. JobKeeper is going towards helping that, and there's still this false state of optimism that everything is going to be OK and they're going to ride through it. In, say, October or November when things open up again, in some way then things will start looking a whole lot better for them."
The silver lining, McShane says, is that so far, none of his clients have had to permanently shut their doors. "I spoke to two clients this morning, and I'm amazed at their resilience because they're still chirpy. They just think, 'It is what it is, and we're just going to ride through it'. I think the reality is that some businesses will close, and that's the sad truth, but the ones I'm talking to, I'm amazed by their resilience and optimism.
COVID-19 CASES BY STATE AND TERRITORY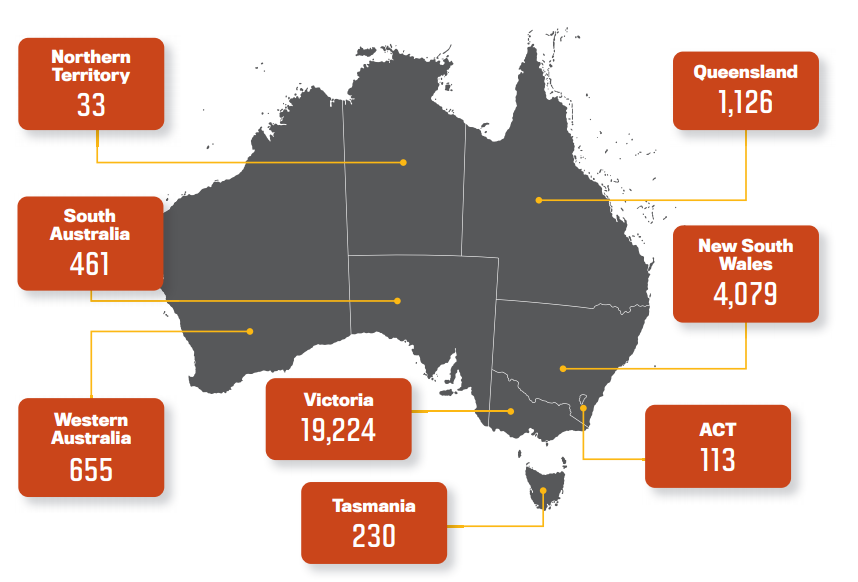 Source: Australian Government Department of Health, as of 2 September, 2020
Creative solutions
Michael Stewart, director at Stewart Insurance Group in Melbourne's Sandringham, says his clients have softened the financial blow of the pandemic by negotiating rent reductions or other special deals with their landlords.
"Most of them that I know that have had major reductions have been able to get 25% to 50% discounts," Stewart says. "I had one client very early on … his client rang him and said, 'This is all over; I'm coming in to hand in the keys.' He's been a tenant for 15 years, and this old man said, 'No, this is what we're going to do. I'm going to give you six months' free rent; I'm going to spend $50,000 and you're going to spend $50,000, and we're going to renovate your shop. We're going to do a double renovation, and I'm going to help you fund it, and when we come out of this, you're going to give me a 5% increase every year for the next three years, and we're going to sign on for another 10.' And the tenant was very surprised by that but accepted the offer.
"This landlord has given six months' free rent, spent $50,000 of his own money and asked the tenant to chip in a little bit, done all the place so that when they come out of this, they'll have a fully renovated, brand-new café. The landlord will have gotten an increase on his rent with another two increases over the next two years and a tenant signed on for 10 years. He said the way they value commercial real estate is what your rental income is and how long the lease is for. So, e ectively, he's increased the value of his property by doing this."
COVID-19 IN AUSTRALIA BY THE NUMBERS



25,923


Total cases



21,684


Total recovered cases

2,622
Estimated active cases

432
Total hospitalised cases



663


Total deaths
Source: Australian Government Department of Health, as of 2 September, 2020
However, not all of Stewart's clients have had such luck. He says the businesses that are really su ering – the cafés, restaurants, function rooms and function settings – have been "completely devastated".
"I think some of them are trying to limp over the line with takeaway food, takeaway co ee, wine and stu like that," he says. "I think some of the larger ones just aren't worth opening … there's nothing that they can do until they're given the OK, so they are just dealing with it on a fi nancial level with banks and landlords."
As an example, he points to one client that maintains a large café and restaurant with seating for 250 people. "They've just shut their doors, and there's nothing they can do until Victoria reopens," he says. "So, I would imagine that they just have to say to their landlord, 'You're just not going to get another tenant; you're just going to have to forgo the rent' and then go to the bank, if they owe money, and say 'You're just going to have to add it to the loan because I just don't have any money to give to you.' We may not ever be having restaurants with more than 20 people in them.
"For WA, some of the accommodation clients actually rode through COVID-19 really well, and that's because [of the] strong mining community continuing through the pandemic" Andrew Clarke, Aon
Sunnier skies in WA
While things are fairly dire in Victoria, it's been a di erent story in Western Australia, says Andrew Clarke, client manager at Aon. His WA-based hospitality clients have enjoyed an economic advantage very few other states can.
"What we've seen so far from a WA perspective is that none of them have not reopened," Clarke says. "They've all, to a large extent, reopened in the same shape and form they did before COVID-19 impacted them. For some it was a bit of a staggered restart, so some of them were doing the takeaways and the like to generate a bit of revenue, and then some of them also expanded that to the element of seating if it's a restaurant or a bar.
"Interestingly, for WA, some of the accommodation clients actually rode through COVID-19 really well, and that's because with a strong mining community continuing through the pandemic, they found themselves some strong occupancy rates through mining companies using their accommodation for their FIFO workers whilst they were on their rotations. So, some of those clients did quite well and are still doing quite well."
In fact, the economic environment in WA is so robust that Clarke says some of his clients are reporting even better results than before the pandemic struck.
"The client I've spoken to had one of the best Junes and Julys they've ever had," he says. "I think that was just a sugar hit, so to speak, of people coming out of lockdown and wanting to socialise and interact, so even with the restricted seating, he found himself doing extremely well."