Simplifying SME Insurance | Insurance Business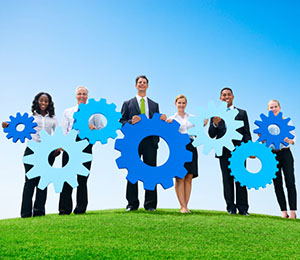 Claiming to be a specialist in the insurance industry is one thing. To prove it is another altogether.
Early in 2015, underwriting agency SURA Commercial launched a product it hopes will solidify its status as a specialist. "A real specialist understands their customers and doesn't just talk about responding, but really does respond to their needs," says Ian Faragher, SURA Commercial's national manager. "I believe that's what we've done."
The SURA 360 insurance product provides policies for a range of small to medium commercial and industrial occupations. It offers asset protection, income protection, liability protection and crime protection, and it's available via a bespoke online system, fully integrated into both broker systems and SURA Commercial's own system.
Discussing the genesis of SURA 360, Faragher says it was all about better meeting SMEs' needs. "We were competing in a commoditised marketplace. Pretty much all the other major insurers had bulk-standard business packs," he says. "So we said, 'How can we distinguish ourselves in that space, offer something a little bit different and, in doing that, respond better to the needs of our customers?'
"Often, people think of a specialty business as plant and equipment or construction. But it really should be possible to also be a specialist in our area – small business."
What an SME wants
Faragher and his team examined precisely what it was SMEs needed. "We actually went out and had a bit of fun with it. We talked to some people in the street, and one of the things that really became apparent was that, as insurance professionals, we almost have our own language. We talk about things like 'increased cost of working' and 'additional increased cost of working' … the average businessperson looks at us and thinks we're quite mad! We all understand what it means and there are important differences between those two which we understood but the customers probably didn't appreciate. So we felt a need to address that. We also felt the industry was out of step with not only the customers but also the commonly accepted business terms."
Faragher says it was paramount to align the new offering with how SMEs think about their businesses. So a key benefit now of SURA 360 is its accessibility. "It talks to customers in their own language. We think about business the way a businessperson thinks about their business.
"So instead of the eight to 10 sections that insurance policies typically have, we have four sections that are set up the way that the customer thinks about his business … Asset, income, liability and crime are the four sections."
Faragher describes the business income protection section as the "jewel in the crown" of SURA 360. "This is a cover that customers think is important, but it's either not been sold well enough to them or explained well enough. The reason is that, in the traditional insurance world, business income or loss of gross profits requires a complicated explanation. It's difficult to get the sums insured accurate. As a result of that, it's not selling in line with its importance to businesses.
"We said if we move to talk to customers in their own language, it should be easy to explain to them. We should also use the same definitions that their accountants use … We said let's start to use proper Australian definitions of accounting terms so that there's no mismatch or misunderstanding when we're talking to the insured or the accountant.
"It's simple, clean, clear, which is what customers want when there's a loss. They don't really want to be sitting there looking at a proviso on page 72."
Cutting-edge technology
After the product was created, Faragher's team turned its attention to delivering it in a manner that was similarly simple. "We said we've got to deliver this electronically and efficiently," Faragher says. "We made a very significant investment in electronic delivery and we worked very closely with our business technology folks, who did an enormous amount of work on this."
He says the system built is unlike anything anybody has seen before but remains simple. "We can't have a hugely complicated front end because that's not what the product's about. It's about simplicity [and] ease to understand."
Dale Hansen
, CEO of
Austbrokers
Coast to Coast, says, "The 360 electronic delivery system is unique, particularly for business income protection, where the system assists us in the selling process in language the customer really understands."
Theo Stevens, SURA's chief technology officer, describes the online offering as intuitive. "We built it using our know-how of the 'tech space' and have adapted that to the clear insights we received from our brokers in the market. That is, keep it simple, and take the double keying off our hands. We've done this and we'll continue to listen to our brokers and continue to feed their insights into the technology. It also happens to be the first underwriting agency product in the Australian market with full policy life cycle integration to a broking system."
Faragher hopes the system's efficiencies mean brokers can claw back time needed to build client relationships, and that underwriters have more time to be better underwriters.
So far this year, there's been significant activity in the new system. SURA general manager Toby Guy says, "The take-up has been extremely pleasing, producing double-digit growth quarter-on-quarter."
And while SURA 360 has been rolled out, remaining agile is essential to its ongoing success, according to Faragher. Since launch, the online system has already been tweaked in response to client feedback. "The secret of this product will be continuous improvement. There will be future versions, the system upgrades will continue …We're continuing to look at how to integrate ourselves into how the brokers do business."
Craig Patterson, managing director of
Austagencies
, tells Insurance Business, "We've made product specialisation/simplification coupled with end-to-end delivery systems that eradicate duplicate handling a core part of our business strategy … We want to be known as the product leader in our chosen fields coupled with being the easiest market to transact with.
"Change like this doesn't happen overnight, and the broker partners that have supported our development journey are reaping the rewards. We've got ambitions to make this type of technology available across more and more of our business – brokers will feel the positive impact as this type of delivery helps reduce frictional costs and allows them more time to interact with their clients in lieu of being tied down on non-revenue-producing tasks."
So what does Faragher cite as a key takeaway of the SURA 360 experience?
"Keep listening to your customers. It's easy to go out there and say, 'I've listened. Now I've delivered that'. But until they see it and say, 'Yeah, I like it, but I would like that more', you've got to be big enough to say, 'Okay, we can do this'."