Stronger together | Insurance Business Australia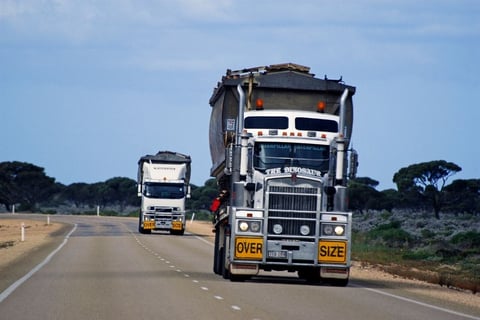 Talk to Nick Dendrinos, head of motor at NTI, about safety technology in the transport industry, and the conversation quickly shifts from talk of telematics and cutting-edge solutions to something far more human. He tells of a 28-year-old working for a large transport company, who went from driving single trailer trucks on short trips to being at the wheel of a B-double on a long-haul route – not an easy change to adapt to.
"One day he had a little micro sleep, and the Seeing Machines technology, which detects driver fatigue, shook his seat and woke him up," Dendrinos says. "He told his mum about it that night, and she rang the operator of this big company and said, 'Thank you for saving my son's life.'"
For Dendrinos and Staci Clark, NTI's head of sustainability, a transport insurer's role is increasingly to support companies to do just that – keep drivers safe and be the best they can in every sense. It goes way beyond insurance; it's about shared value.
"Our customers are looking for someone who understands their industry in detail and is supporting them," Clark says. "We utilize our expertise to help them not just with insurance."
Since the COVID-19 pandemic began, that supporting role has been especially important.
"Being able to adapt your insurance offering, being there for the customer, being easy to deal with – that has been critical," Dendrinos says. "Especially at the start, it was important to respond quickly and offer things like laid-up cover so customers could get a reduced level of coverage if necessary."
Also critical was having the technology to enable easy access to products and services. "Initially, a lot of customers were unsure of what was happening with their businesses," Dendrinos says. "They wanted to see where they could save money, so that was key."
COVID-19 also opened the public's eyes to the critical role of the transport industry in keeping the economy's engine revving – ensuring Australians are fed, clothed and furnished with essential goods.
"There has been huge growth in transport and logistics during COVID because of the increased demand for consumables and wholesale goods and the massive increase in online shopping," Dendrinos says. "But it is still one of the most dangerous industries to work in. Our purpose is for a safer and more sustainable industry."
Again, the pandemic has given this purpose greater urgency. A 30% increase in vehicles on Australian roads, combined with an infl ux of new truck drivers – many displaced from other areas of the economy – has highlighted the increased need for driver safety monitoring systems, telematics, advanced driver assistance systems and the like. While saving lives is the top priority, safety tech is also crucial for profitability, Dendrinos says.
"It isn't just the bent fenders or the scrapes; it's the complete end-to-end downtime impact of the accident – that has a huge impact," he says. "You have reputational issues, too. Big consigners like Woolworths or Ikea are looking for transport operators, as part of the chain of responsibility, to have the best, most safety-capable trucks to protect drivers and ensure the safe transportation of goods."
Making safety everyone's business
Increasingly, insurers are not only advocating for safety technology but rewarding their customers' investment. NTI is offering relief on driver restrictions and reduced excesses – including for inexperienced drivers – for companies that invest in fatigue management safety devices.
This supporting role is part of the great shift taking place in insurance, from being merely a transaction that protects the insured's assets to creating shared value between the insurer, intermediary and end customer, Clark says. NTI has deepened this partner-ship of late with two initiatives. First, for its Business of Safety campaign, NTI received funding from the Heavy Vehicle Safety Initiative to develop tools and resources to help everyone in the industry – from drivers to managers – across three topics: leadership, fatigue and technology.
"A large portion of the industry uses fatigue monitoring systems, even prior to COVID, because they care about their people," Clark says. "But safety systems can pose a challenge when understanding the 'so whats' of the data. You can have a high level of business maturity where you understand all the data – and there's a lot of it – coming in, or you have made the investment but don't know what to do next. We have supported customers through specialist data reporting to simplify the analytics so they could understand where they needed to focus their efforts."
The Business of Safety campaign is now housed within NTI's more recent initiative, the Better Business Hub – a home for resources and support to help businesses see demonstrable value straight away. The hub provides content that can be consumed anytime, anywhere, on any device.
"It's 24/7 access to the materials and tools that make it easier to run your business," Clark says. "These are 24/7 businesses, so we have to be 24/7 in response to helping them be great. The hub is designed to help address non-insurance components of the business, such as cutting red tape, profi table business and managing teams. These are some of the front-line issues transport needs to deal with daily."
Ensuring best practice is especially important at a time of acute driver shortage, the recent influx notwithstanding.
"Drivers are looking for the best employers – a place with a great culture and where you are respected and rewarded," Clark says. "The investments the industry is making in their people and technology continue to drive an improved safety culture."
To accommodate different styles of learning, the content in the Better Business Hub is delivered in a range of formats.
"Podcasts may resonate with drivers; downloadable e-books may resonate with fleet owners," Clark says. "What I love is that it's industry experts talking to industry.
There are a lot of amazing industry leaders on the hub talking about their experience with technology selection and implementation, or how to develop great leaders, for example. We also share our internal expertise in both insurance and non-insurance products and services, such as Traction, our program designed to problem-solve safety culture and make a leader out of everyone to build stronger businesses with safer, happier people. We want the industry to engage and access specialist support that is targeted to their needs."
The broker as partner
The Better Business Hub is proving to be a great resource for brokers, too, helping them have richer conversations with customers. This is especially welcome when it comes to transport companies that have gone from, say, fi ve or 10 trucks to 20 due to COVID-related demand.
"Many of those businesses are struggling to deal with that growth, and the broker is often the person they talk to about a range of things, not just insurance," Dendrinos says. "The Better Business Hub has given brokers a lot of good information to help them demonstrate more value to the customer."
The hub's sharing of expertise sits comfortably within a changing insurance environment where brokers are increasingly drawn to specialisation.
"I have seen a massive shift in this regard because there is more complexity in what the broker's customer requires," Dendrinos says. "This has driven the rise of underwriting agencies with specialist capability and companies like NTI who specialise in end-to-end trans-port across logistics, mobile plant and marine, etc.
There's a flight to quality and specialized expertise more than ever before."
But no matter how specialised you are, insurance is constantly evolving, and there is always more to learn, say Clark and Dendrinos.
"Everything is a lot more focused, both on having the right product and helping people understand, identify, and mitigate their risk," Dendrinos says. "Technology is another important element – having insurtech products that make it easier for the customer to transact with us and enhancing that with other non-insurance products and services. That is where you have to be."
While NTI has made great strides in these areas, it's not resting on its laurels. "All insurers need to think a lot more innovatively around the traditional insurance product," Dendrinos says. "We need to get more safety data and understand what it is doing, incorporate it into our rating algorithms. That's something we are passionate about.
"There are models overseas that do insurance by the kilometre, insurance as you drive, incentivising a different approach to encourage safety and bring truck drivers into the industry. Not many young people want to be behind the wheel of a long-haul truck these days. If they are, they need to be sure they are in the safest truck possible and that people are looking after their interests and safety."