Leading today for tomorrow | Insurance Business Australia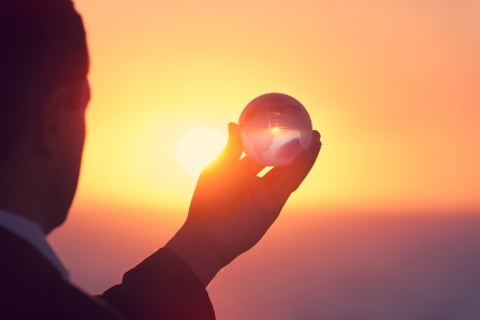 QBE Group CEO Patrick Regan talks about improving the business of today while simultaneously building the insurer of the future
"We're trying to do a lot of things, trying to move the ball on our seven key priorities, and while it has involved a lot of travelling, it's felt good," Regan says. "It's felt like we're doing a good body of work, and it's felt energising."For the first half of 2018, the initial focus has been on creating a clear plan and assem-bling the right team. "We spent most of the last few months coming up with a plan – and that's not Pat Regan's plan, that's our team's plan," he says.
"It would've also been my plan – it's what I wanted to do – but it's very much been constructed by our team, and they're all taking roles in it that I couldn't possibly have asked them to do, in addition to their day jobs: leading various elements of our program, putting their own expertise in, putting their own time in … It means we've come up with the right plan for QBE."In April, QBE announced a reshaping of the group's senior management team.
Inder Singh was appointed group chief financial officer, Peter Grewal is now group chief risk officer, Liam Buckley became group head of culture and talent, Matt Mansour is group chief information officer, and Anders Land is now group head of internal audit. "We've just got one more appointment, which is the chief underwriting officer," Regan says, "and hopefully we're pretty close on that."
Back to basics
In late February, QBE announced to inves-tors its new strategic agenda, featuring seven key priorities, which aims to strengthen the group following a challenging 2017 in which it sustained a statutory net loss after tax of US$1.2bn, compared to a profit of US$844m in FY2016. One of QBE's seven priorities is rolling out its Brilliant Basics program, which Regan described at the time as a focus on "delivering consistent excellence in our underwriting, pricing and claims everywhere that we do business"."That's an interesting piece of work, and it will really make a big difference to QBE," he says, particularly as it relates to claims."How do we show up, pay what you think you're owed and pay it in a really good manner so that you feel like you've got good customer service?" he says.
"I think a lot of our work is providing a better, really first-class claims service, whether that be with more digital tools [or] highly trained staff … I want us to be known for providing a really high-quality claims service."Alongside Brilliant Basics, another key priority for QBE this year is laying the groundwork to shape the organisation into what it needs to be in five years' time – or, in Regan's words, "the QBE of the future that embraces innovation a lot more, has highly digital processes, has got data science in every corner of how we do business, is much more modern, fast-paced [and] has a more modern, diverse workforce".
The tech piece
One of the keys to QBE's technological future will be its use of data. "It's amazing what more you can do with the information you've already got," Regan says. "The trick for us at the moment is there's so much data that we already have that we can do more with. We've hired some genuine rocket scientists into our data analytics teams around the world. We've hired people directly from university, from known good-quality teams in other companies, and it's been bril-liant. It's really opened the eyes of everybody in the business. We've got similar teams in all of our businesses now, so more than 100 people across the globe, and it's fantastic, and we can do a ton more tomorrow than we did yesterday on that, [and] more next year than we've done this year."As well as putting substantial focus on building data analytics capability, QBE is continuing to invest in partnerships with insurtech businesses.
Regan mentions the most recent investment by QBE Ventures in HyperScience, a machine-learning company that builds enterprise-grade artificial intel-ligence solutions with a view to reducing companies' dependency on costly, slow and error-prone manual data-entry operations. "This has been our third investment," Regan says. "We take an equity stake and enter into a commercial agreement with them."The aim is for QBE to use HyperScience's technology for a number of purposes, including driving operational efficiency and unlocking new data and insights.
"They'll look for any form of informa-tion that exists, [from] somebody posting on Facebook about a fire in their house or next door's house, to looking at the fire depart-ment's schedules and seeing how long it takes them to get to different calls, and they accu-mulate these massive amounts of information and do loss prediction based off that, which is dramatically better than historic insurance loss prediction," Regan explains. "We're really excited about that [partnership]."QBE is also undertaking considerable work around automation.
"One of the things we're really working on now on SME products is how we do question-less SME underwriting," Regan says. "We've got access to data such that we don't need to ask you 50 really annoying questions. We can actually use data that's already available to us and provide you with a high-quality product in a standardised way so that you can get a quote very quickly and easily, and then back that up with a high-quality, predictable claims service.
"Also in the SME space, the business is working to make some of its SME products more tailored to specific industries."Typically at the moment, what insurers do is you'll have a certain set of products or a set of questions that are generic across all industries, whereas … a restaurant [and] a factory [are] two very different businesses, and we can actually tailor [coverage] more for both of them."Replicating successesDuring the year before he became group CEO, Regan held the reins of QBE's Australia and New Zealand operations, where he led the implementation of several successful changes, some of which are now being rolled out to QBE's other business units.
One of the key initiatives that will be implemented across the broader group is aimed at driving strong underwriting performance management via regular updates by portfolio managers to the leadership team. "It gives you such a great insight into what they're doing and whether we're on track to deliver what we say we [will]," Regan says. "That worked really well for us in Australia, [and] it has some cultural elements to it that are really attractive as well, in terms of accountability."There's also the Brilliant Basics agenda, which was initially piloted by QBE's Australian team. "When we started that in Australia, I was curious as to how people would find it, and [they] actually really like it – who's not going to like getting better at what we do for a living?" Regan says.
"And implicit but also explicit in that is that we'll make investments [and] we'll give them better tools. We spent a lot of money investing in pricing tools … and we spent quite a bit of money externally with help from [organisations] like Finity to make us better at that, and similarly claims as well."Culture was another significant focus for Regan when he was in charge of operations in Australia and New Zealand, and it will be equally important for him now that he's leading the global organisation."I think in every walk of life, whether QBEyou're in a sports team [or] running a busi-ness, people identifying with the culture of the company, and it being a really distinctive culture is so important," he says.
"We spent quite a bit of time defining what we wanted our culture to be [and] then getting everybody to mobilise behind that and start role modelling that. We're doing that right across QBE now."On the subject of culture, Regan also discusses QBE's ongoing work on the diversity and inclusion front."I feel lucky that I'm in a country where people are quite thoughtful about diver-sity and have been for some time," he says, adding that he's joining the Male Champions of Change, a group of senior men across the business community committed to achieving change on gender equality issues. Additionally, QBE is continuing to do a significant amount of work on this front, both in Australia and around the world."We're doing more and more … and [promoting] more women into leadership roles," Regan says.
"Across the group, I think we increased women in leadership roles by about 3% … We had a target previously of 35%, but I think we shouldn't stop at that. We should keep doing that [work] until it feels much more equal across the business."Regan is determined to ensure QBE delivers on its promises, which means not only working to achieve a better business for today, but also preparing the global insurer to be the company it will need to become in a rapidly changing world. In his own words, the group's biggest challenge right now is to learn "how we pat our head and rub our tummy at the same time".