Out in front | Insurance Business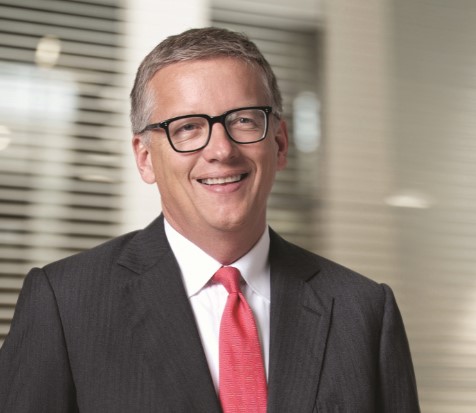 Chubb chief digital officer Sean Ringsted shares his insight on how to strike a balance between investing in technology and calling on the human touch
I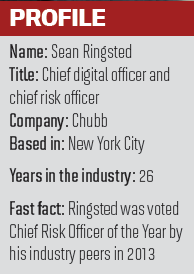 nsurance wasn't Sean Ringsted's original calling. But while studying biochemistry on the way to academia's upper echelons, he had a realisation that made him change his career path altogether.
"I reached a point in doing my post-doc that I figured I wasn't going to be the best researcher," he says. "I looked around and went into the insurance industry as a trainee actuary in London."
From there, his work took him around the world, first to the US and then to a small insurance startup in Bermuda, which was acquired by ACE in 1998.
Ringsted, who's been Chubb's chief digital officer since last February, says his time at the startup set him up for his future position.
"We were probably one of the first true insurtechs," he explains. "We were very small, we were very agile, we were very nimble, and we put technology right into the hands of underwriting. So, 20 years later, we're back full circle."
While at ACE, Ringsted served in many roles: first on the reinsurance side as the senior vice president and chief actuary for ACE Tempest Re from 1998 to 2002, and then as executive VP and chief risk officer for the next two years. He was named chief risk officer of ACE Group in 2008 and executive VP in 2014, just prior to the company's acquisition of Chubb in 2016.

Digital footprint
During his career, Ringsted has had a front-row seat to ACE's evolution. "We set out with a strategy around underwriting," he says. "Just seeing the strategy play out in the day-to-day execution as we built out a portfolio of different products – in part through acquisition, in part through organic growth – has been incredibly satisfying. In today's age, where everything is 'now' and transactional, to step back and take the long-term view and be part of something that's played out over the long term has been very meaningful."
One standout moment for Ringsted was being part of the team charged with combining ACE and Chubb's operations following the merger – a difficult job because of the sheer scale and size of the two organisations and their systems.
"We've accomplished something that I take a lot of pride in," he says. "You might think it a challenge to put together two very large organisations – you've got two different cultures and philosophies – but the success was really underpinned by a shared philosophy and love of underwriting."
Two years after the merger, a key part of Ringsted's work is making the combined company's footprint more digitally integrated. Throughout his career, he's spent a lot of time on the data and analytics side of the business, which has been core in helping Chubb take the next digital step.
"We're working on a number of fronts, as you might expect – thinking about our front end, the product and the service that we provide to the clients, and the customer experience and making that more digital," he says. "Internally, it's around how we can use some of these new tools and data to make smarter and more effective underwriting and claims decisions, and to make sure that people are doing the right tasks as e­ffectively as possible."
"Customers are much more demanding. They have an expectation when they're transacting digitally, and they have an expectation around their customer experience. We have to be able to respond to that"
With a company as large as Chubb, putting everyone on the same digital page can be arduous, but even more of a challenge, Ringsted says, is figuring out what's working and what isn't and directing resources to the right projects. Nonetheless, the company's size has actually made it easier to find solutions.
"If you're thinking about trying to change a large organisation such as Chubb, I think [size] is actually a strength for us," Ringsted says. "Our size and the products we have and the geographies we have give us a lot of opportunities and options to e­ffectively experiment and try out new ideas and products."
A discussion around digital integration wouldn't be complete without addressing the cyber attacks that have long been an area of concern for the industry. A recent report from the Office of the Australian Information Commissioner revealed that it had logged 242 notifications under the Notifiable Data Breaches scheme from the beginning of April to the end of June. Chubb has a heightened awareness of these events, and the insurer has solid infrastructure and data breach tools in place to help defend it against cybercriminals.
Customers first
When it comes to leading a digital transformation, Ringsted also places a high priority on the consumer and their needs.
"Customers are much more demanding," he says. "They have an expectation when they're transacting digitally, and they have an expectation around their customer experience. We have to be able to respond to that, and if you are providing information to an agent or a broker, we want that to be as efficient as possible."
However, he also stresses the importance of having real people on the ground during natural catastrophes, and being able to respond quickly to customers impacted by the disasters.
"We can have all the tools and data in place, but having somebody there at that time of need is just incredibly important," Ringsted says.
"I think we're really well placed to succeed, [and] we will thrive as a company of the digital age. We're going to be there to serve our customers with products and services to meet their needs as they go about their lives in the digital economy"
Chubb will continue investing in innovation – the insurer spends US$1bn annually on technology – and using digital tools to become an 'in your pocket' risk manager and advisor to consumers and businesses alike. Ringsted says Chubb's goal is to eventually evolve from a repair/replace model to a predict/prevent service provider. And he's optimistic that the company will continue leading the digital way in the insurance industry while staying connected to its clients.
"I think we're really well placed to succeed, [and] we will thrive as a company of the digital age," he says. "We're going to be there to serve our customers with products and services to meet their needs as they go about their lives in the digital economy. All that will be done with a human touch where we need it."