Allianz Partners delves into healthcare trends accelerated by COVID-19 | Insurance Business Australia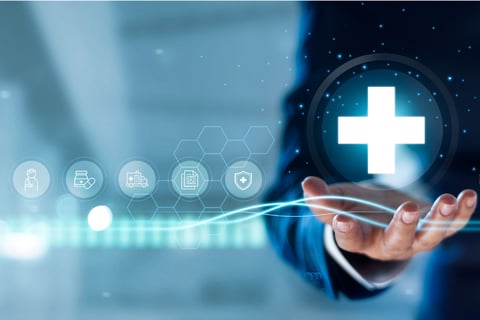 The COVID-19 pandemic has shaken the Australian healthcare industry, significantly accelerating healthcare trends beyond the timelines predicted in the Allianz Partners "World in 2040" series released three years ago. In a follow-up report, the insurer has now delved into the delivery of new treatments and medicines years earlier than previously predicted.
Allianz Partners' new report, commissioned by futurist Ray Hammond, examines the COVID-19 pandemic's impact on the future of healthcare, science, and technology, with the aim of ensuring that health insurance fits customers' current and future needs.
"As a result of COVID-19, the future has suddenly become a lot closer, particularly in terms of medical science and healthcare innovations. A lot of my predictions from 2019 have already come through, so this report, commissioned by Allianz Partners, is extremely timely," Hammond said. "The cost of the pandemic on lives has been extremely detrimental, and we will be mourning lives lost for decades to come. There is, however, a very positive takeaway from this bleak time in our history – the transformations in science and healthcare. The research into heart attacks, killer diseases, and other conditions will hopefully save many lives in the years to come."
The vast potential of mRNA technologies
The COVID-19 pandemic compelled the global health and science community to develop a vaccine as quickly as possible, transforming medical science. The development and deployment of genetic mRNA technologies are considered the most significant advancement in medical science since the pandemic hit in 2020, with over eight billion vaccine doses administered globally by December 2021 and more than 4.4 billion people (approximately 56% of the world's population) having received one or more doses of a vaccine.
Now, the technologies used to produce these vaccines are used to develop further treatments, with researchers at the Yale School of Medicine focusing on creating a vaccine for malaria, while researchers at King's College London focus on regenerating cardiac arrest-damaged heart tissues in animal trials. Moderna has also started a trial for an HIV vaccine.
Read more: Allianz sends a strong ally to the Women in Insurance Summit
Remote healthcare delivery
With the COVID-19 pandemic forcing countries to close their borders and implement lockdowns, using telemedicine, virtual wards, and health technology has become the new normal across the globe – reducing the burden on hospitals and doctors during the pandemic.
Accelerated adoption of health tech
Health technology now goes well beyond the traditional smart watch as devices offer consumers and medics virtual snapshots of a patient's vital signs. As the virtual ward develops and more patients are treated at home, other sensors and monitors provide additional information about patients' health and wellbeing to medics, including mats that can detect changes in a patient's gait, cameras for patient observation, motion sensors, electric plug and switch sensors, door sensors, humidity sensors, and ambient temperature sensors.
In the future, the report expects monitoring patients in the virtual wards to become less time-consuming as artificial intelligence systems (AI) assume the role of monitoring the patients 24 hours a day.
Commenting on the report, Paula Covey, chief marketing officer for health at Allianz Partners, said: "Without doubt, the single biggest driving factor behind this drastic acceleration has been the COVID-19 pandemic. The enormous collective effort from the global medical science community, who came together to develop vaccines and treatments as quickly as possible, was unprecedented. Not only that, but the discoveries they've made – particularly in relation to mRNA technologies – can be applied to lots of other disease areas. This is a very welcome silver lining following a challenging few years for people around the world. As ever, Allianz Partners is harnessing the findings of this report to inform our long-term planning to ensure our offerings are relevant, customer-centric, and future-focused."
Allianz Partners Australia CEO Chris McHugh added: "While COVID-19 accelerated the use of telemedicine, we're proud to have offered telehealth services with our products for many years. We remain committed to improving the lives of our members by offering increased choice and options for care. By innovating with the likes of digital apps and other wellbeing services, we aim to remain relevant and accessible today and in the future."