Aussie insurance giants count the costs of tragic train crash | Insurance Business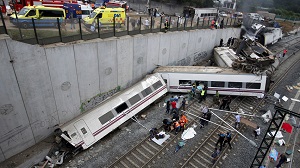 QBE and Allianz have confirmed they are two of the insurers of the train that derailed in North West Spain last week, killing 79 people.
Around 70 people are still in hospital, with 22 victims in critical condition, as a result of the crash in Santiago de Compostela last Wednesday. The crash is believed to be one of the worst the country has ever experienced.
A spokesman for QBE Group told Insurance Business it is on cover for the third party liability losses of the train company, Renfe Operadora.
"While it is QBE's policy not to comment on specific risk exposures for client confidentiality reasons, we are aware that Renfe has previously disclosed that QBE is its insurer in relation to certain third party liability losses," the spokesman said.
"Speaking generally, QBE has reinsurance protections that cap the company's exposure to any single risk at US$50m."
Allianz's Spanish arm, Allianz Seguros, yesterday told Insurance Business that it was working closely with Renfe and the families of the victims.
"We wish to express our solidarity with those affected by this terrible accident and give our condolences to the families of the victims," said Iván de la Sota, CEO of Allianz Seguros. "We are working hard to give our maximum support in this situation".
Since the crash last Wednesday, Allianz Seguros, through Allianz Global Assistance, has launched a special operation and has a team of experts in Santiago to help with the transportation of the deceased, the injured and their families.
The company is working closely with authorities and the train company Renfe Operadora. A team of Allianz specialists is running the operation, coordinating with hospitals that assist the injured.
With the information available, Allianz Seguros is getting in touch with families and injured people.
"We are providing clear information related to the coverage of the mandatory accidents policy and to the procedures that must follow," says Julio Veloso, deputy managing director of the company and head of claims. "We are treating each case personally and individually," he added.
Allianz's medical staff in Santiago has visited all the insured and offered their support. Allianz Seguros is also taking care of the transportation of the deceased, the injured and their families.
Francisco Jose Garzon was driving the train at more than twice the speed limit when it crashed on Wednesday 24 July. Garzon has not yet been formally charged, according to the BBC, but is suspected of being involved in 79 counts of reckless homicide.
Photo source: Reuters