Board game takes aim at insurers | Insurance Business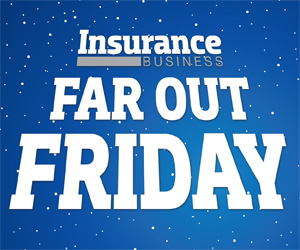 FAR OUT FRIDAY: New board game – Quakes and Ladders – portrays hardship of rebuilding a home after an earthquake; workers' comp claimant caught having sex in park; and brokerage's space insurance.
A new board game which aims to portray the difficulties of rebuilding a home in the aftermath of an earthquake was inspired by how difficult it is to deal with insurance companies.
Siobhan Grimshaw of Christchurch, New Zealand, created Quakes and Ladders after speaking with neighbours about the frustrations and difficulties when dealing with insurance issues that came to light after last year's earthquake in Christchurch, Grimshaw said in a news report last week.
"This game symbolises the way it feels to deal with these insurance issues," said Grimshaw. "So often, with the insurance side of things, it feels like we're making progress. They make lots of promises, and then we find ourselves back at square one."
Aside from the real-life implications of earthquake and disaster recovery, the game, which is similar to the popular board game Snakes and Ladders or Chutes and Ladders, is a fun way to deal with difficult situations, according to the game's website.

---
A sex romp at a public park helped prosecutors convict a US woman of faking an ankle injury to collect workers' compensation payments.
Modupe Adunni Martin, 29, was sentenced to nine months in jail in San Mateo County after pleading no contest in October to felony workers compensation fraud.
Martin was caught on videotape in August 2009 throwing her crutches into a car and running in high heels to meet her boyfriend at a public park, where she took part in a sex act that doctors concluded she couldn't have done with an injured ankle, District Attorney Steve Wagstaffe said.
She was arrested and charged with 10 counts of insurance fraud.
"I guess love just helps one get over injuries," Wagstaffe said in a phone interview.
---
Brokerage Aon has formed a partnership with Space Expedition Corporation, the Netherlands-based space tourism company dedicated to making space travel available for private citizens.
Aon, in collaboration with Space Expedition Corporation, has designed a unique insurance policy providing comprehensive and customised protection for space travellers.
This insurance policy provides coverage for losses related to flight cancellation, postponement or temporary interruption. It is based upon a regular non-appearance cancellation policy and also includes additional supplemental coverage.
"This is an extraordinary opportunity for private citizens to have the opportunity to travel into space," said Jeff Poliseno, CEO of Aon Risk Solutions' International Space Brokers Practice. "Our partnership ensures that all those participating in the Space Expedition Corporation program will have comprehensive coverage during their preparatory training and eventual space travel."
---