Broker champ thanks industry fundraising efforts | Insurance Business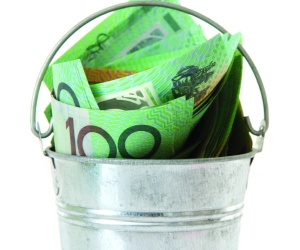 Broker champion Kate Fairley, who tomorrow will travel to NSW to help bushfire victims with the claims process, has thanked the insurance community for helping her meet $2000 fundraising target - but she needs more funds to get the project fully off the ground.
As reported by Insurance Business last week Fairley is raising funds so she can hand out Get Informed bottles of water to affected policyholders. The bottle branding is printed advice which tells policyholders what happens after a bushfire and how brokers can help.
Twelve companies and individuals, including Insurance Business pledged funds so far.
Fairley may have reached the $2,000 'tipping point goal' with funds so far totalling $2,020 but to meet the full costs of the water bottles, she needs at least $2,364, and to ensure the campaign helps as many people as possible, she is urging the industry to dig deeper to help her meet the $6,500 'total funding goal'.
She thanked the industry for their help so far: "I am truly grateful for the support offered by brokers and individuals across the country," Get Informed director Fairley said. "The assistance provided via Start Some Good will go a long way towards promoting the free service to those who need it."
"There are thousands of insurance professionals who are aware of this perception crisis, and I'm so thankful that 12 organisations and individuals have chosen to support this initiative by Get Informed."
Fairley will be joined by seven brokers on her state-wide tour of NSW, who will all be on hand to help affected policyholders. The brokers are: Julie Lonard of 1st Choice Insurance Services – Penrith, Jacob Ross of Affinity Insurance Services – Lithgow, Alex Damon of PSC Sydney– Springwood, Tony Burke of AAIB – Lake Haven, Greg Walsh & Associates - Bargo/Picton, and Ian Hewitt and Paul Bentvelzen of Ian Hewitt & Associates- Penrith.
"We've registered the service with the Bushfire Recovery Centre in Springwood, the water bottles are on their way to the Winmalee Supermarket who will be storing them temporarily while I move them to the various locations," Fairley said.
Fairley has contacted the NSW Council of Social Service who has forwarded the information on to the Springwood Library where much of the Bushfire Recovery information is being distributed; and she will be giving an interview on Radio Blue Mountains at 11am this Sunday 10th November.
"The fact of the matter is that it's very difficult for us to push positive stories through to the media, that's why it's essential for us to be involved in events such as this - when insurance is sexy," she added.
"I'm proud to support Get Informed's NSW Bushfires campaign," said Insurance Business editor Kevin Eddy. "This is exactly the kind of initiative that can help combat the negative image that the insurance industry is so often tarred with."
To donate, visit Start Some Good.