Broker network to acquire Calliden Group | Insurance Business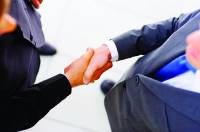 Steadfast Group Limited
is to acquire
Calliden
Group and then sell on the general insurance operations and two underwriting agencies to Munich Holdings of Australasia.
On completion of the sale to MHA, Steadfast will retain the remaining eight Calliden agency businesses - ARGIS Farmpack, Builders' Warranty, Calliden Home, Dawesmotor,
IUA
business interruption, Mansions and Accident and Health and 50% of
QUS
strata.
Munich Re will be responsible for the portfolio and all government relationships.
Steadfast will pay $55m for the acquisition. MHA will pay approximately $50m. MHA will also obtain the net tangible assets of Calliden Insurance Limited, and its business package and commercial agency operations.
Steadfast will acquire Calliden Group through a scheme implementation deed (SID) and will acquire all the issued shares of Calliden by scheme of arrangement.
Robert Kelly
, managing director & CEO, said: "Calliden's eight agencies complement our diverse mix of niche and specialised agencies. On completion of the acquisition, Steadfast will become one of the largest agency groups in Australia with annual GWP of around $300 million.
"Currently over half of Calliden's agencies' insurance sales are generated through Steadfast network brokers, which places us in a strong position to enhance their value. We will also endeavour to develop and strengthen their alliances with other distribution networks and non-aligned brokers as well as insurers.
"This transaction also leads to a stronger partnership between Steadfast and Munich Re and its subsidiary Great Lakes Australia (GLA). By acquiring the general insurance operations of Calliden, GLA can provide the 306 Steadfast Network Brokers access to products backed by Munich Re, one of the world's leading reinsurance companies."
Calliden shareholders will receive a total of 46.5 cents per share if the Steadfast scheme is approved, consisting of cash consideration from Steadfast of 41.5 cents per share and a special fully franked dividend of 5.0 cents per share. Based on 226.7 million issued shares, the Scheme values Calliden at $105.4m and consists of $94.1m cash consideration from Steadfast and an $11.3 million special dividend payment from Calliden. The price of 46.5 cents is 35% above the closing price last night and 30% above the last 90 day VWAP.
Steadfast will fund the deal via secured debt financing. Existing facilities have been increased to $13m following the board's approval to raise the group's gearing level to 20%.
Kelly added: "We believe the scheme price including the proposed special dividend should be seen as highly attractive to Calliden shareholders. We plan to dedicate appropriate resources to ensure a smooth transition and integration for Calliden, including its customers, partners and other stakeholders. Nick Kirk and his team have built up a profitable agency business and we look forward to working with them to further grow the business. "
This comes as Steadfast today reported a pro-forma prospectus revenue of $173.4m for the full year of 2014.
More details in tomorrow's newsletter.