Brokerage extends tattoo offering | Insurance Business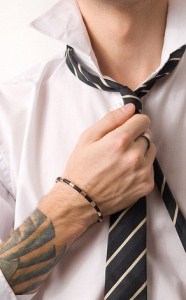 Queensland brokerage Parmia has extended its current tattoo offering with the launch of two new products for studio occupants and property owners.
The company this month went live with a public and products liability policy and an industrial special risks (ISR), which goes above and beyond the product it launched in May.
The latest ISR offering provides property cover for property owners with tattoo studio tenants as tattoo parlour occupants themselves. Previously, Parmia was only able to provide cover for tenants.
The offering also includes cover for 'burglary and money' for studios, and cover for previously excluded locations in Queensland, NSW and Western Australia.
Founder and director of Parmia, Danny Gumm states that together with its existing combined medical malpractice, public and products liability policy, they ensure professionals working in all areas of the tattoo industry gain the maximum protection available.
"It was about finding a solution for those working in the industry, who are affected by the many negative stereotypes associated with tattoo and body piercing," he said. "In order for their business to survive, they needed someone who was willing to take a chance on them and that is what we're aiming to do."
Gumm continues stating the firm was more than up for the challenge, with Parmia preferring to work with industries where it can develop solutions that will make a real, positive difference to businesses.
"We like to find an industry facing challenges, that we can immerse ourselves in", he said. "Together with the client we develop a risk analysis, which identifies their concerns and enables us to better address their insurance requirements".
However, while Parmia's policies are a significant breakthrough for the tattoo industry, cover is subject to strict criteria with unacceptable risks including criminal conviction and businesses that have been established less than 18 months.
"We have entered into this market knowing full well the risks and negative connotations," explained Gumm.
"Obviously while we want to help businesses in the tattoo and body piercing industry gain cover, we also need to ensure that each applicant meets the criteria prior to evaluating their application for insurance."