Brokerage revenues slump 10% for Aussie operations | Insurance Business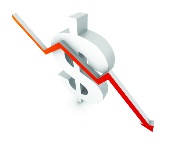 JLT has attributed a 10% drop in revenues for the Australia and New Zealand operations in the first half of 2014 ended 30 June 2014 to the "strength of the sterling".
Revenues dropped to AUS$116.5m (£64.5m) and trading profit declined by 11% to $41m (£22.6m), but the constant rates of exchange (CRE) increased by 6%. The trading margin stayed stable at 35%.
At constant rate of exchange, revenues grew by 7%, which was all organic. JLT reported that some revenues that were anticipated in the second half were included within the first half.
The JLT report said: "The good underlying performance reflects the growing benefits being delivered by the investments we are making in our specialty areas and the continued strength of our public sector business."
Overall, the group's total revenue jumped 15% to $1bn (£559.6m), organic revenue growth hit 6%, underlying profit before tax also grew 15%, to $193.9m (£107.4m) and reported profit before tax soared 16% to $177.7m (£98.4m).The interim dividend increased by 5% to 10.6 pence (19.1 cents).
JLT reported strong growth in Asia, Latin America, and international employee benefits, and good progress on the integration of Towers Watson Re.
It said it continues to invest in the business through acquisitions in Hong Kong, Brazil and the UK, as well as a start-up venture in Argentina.
However, the brokerage warned of continued challenges due to the decline in the insurance and reinsurance rating environment and adverse foreign exchange movements.
Group CEO Dominic Burke said of the results: "We are confident that we can deliver year-on-year financial progress, but we are more cautious over the outlook for the remainder of the year given the marked decline in the insurance and reinsurance rating environment over the last quarter and the continued strength of sterling.
"The strong organic revenue growth we achieved in the period, despite these challenges, demonstrates the success of our strategy of focusing on our areas of specialisation and higher growth economies."
The Australian dollar figures were converted from British pound sterling on 30 July 2014, using XE.com