Broking giant scores goal with Man UTD and local kids | Insurance Business

Manchester United Soccer Schools Coaches were on hand last week to provide children from disadvantaged backgrounds an exclusive skills and drills day.

Students from years seven and eight at Punchbowl Boys High School and Chifley College Mount Druitt Campus were treated to a kick thanks to hosts, Manchester United, and sponsors Aon, working in conjunction with The Smith Family.

John Shiels, CEO of the Manchester United Foundation, Mike Near, head coach at Manchester United Soccer Schools, coaches Matt Gregory and Steve Nixon, and Fred the Red, Manchester United's mascot taught the children nifty defences and dribbles at Sydney Olympic Hockey Centre.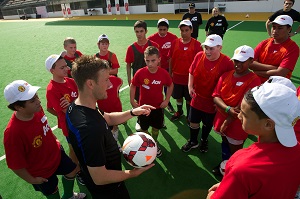 The students selected for participation were those judged by their teachers and coaches to be the most committed in attendance and effort.

Research by The Smith Family found that close to half of all children living in disadvantaged communities did not participate in either sport or cultural activities during the past 12 months.

Speaking of the event, Steve Nevett, chairman, Pacific Region at Aon, said: "Aon's partnership with Manchester United serves as a platform to offer a once-in-a-lifetime opportunity to kids who may not otherwise have a chance to experience this kind of sporting experience.

"The skills-and-drills day is an expression of our shared belief that all children deserve a level playing field and nothing is going to help them get that more than a quality education and access to all the opportunities that go with it."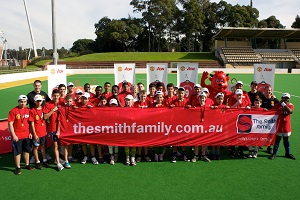 Theresa Collignon, NSW/ACT general manager of The Smith Family, added: "As well as playing a vital role in promoting physical and mental health and wellbeing for children, sport helps them develop essential social skills while fostering a sense of confidence and belonging. For many children, school is the major pathway to these sporting and other activities – but our research shows that many from disadvantaged communities are missing out. The opportunity to participate in the skills-and-drills day with Manchester United Soccer Schools coaches is a memorable event that we hope will stay with them for years to come."