Business confidence up because brokers 'getting on with it' | Insurance Business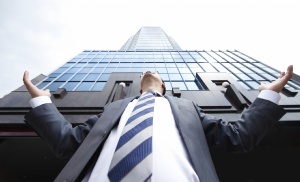 Brokers have attributed business confidence in finance and insurance making a comeback in July to the business community losing faith in the government and just getting on with their lives.
Research by Roy Morgan found that overall business confidence in Australia in July improved 11 points to 119.1 due to the increase in the proportion of businesses feeling that economic conditions in Australia will improve over the next year and five years. Business confidence is now above the average of the last four years, although it is below the peak of 136.3 in October 2013 following the new government.
As a result of the improved outlook for the economy, the proportion of businesses that believe the next 12 months is a good time to invest crept up from 52% to 57%. Roy Morgan noted this is the highest level since April 2014.
Finance and insurance was the most confident sector in the July quarter at 137.4. Robert Cooper, director of
Cooper Professional Risks
puts this down to brokers getting on with their jobs – realising the
Government
will have little impact on the economy.
"After hoping a new government may trigger things, there is a quiet realisation that it really does not do much at all and we should just get on with our lives," he said.
"People are getting on with the job despite the budget, realising governments have little influence on business in the community, however people are still being careful with unnecessary spending."
Cooper said business confidence is evident in the professional services sector but the same cannot be said for sports and entertainment, which is down. Hospitality is volatile and retail is "patchy", he added.
Former broker, and director of broker championing website Get Informed, Kate Fairley, does not believe improved business confidence has manifested itself because of the "global upheaval".
"We'd only just recovered from the first Malaysian aircraft disaster before another hit. There are the ongoing issues in Russia and now the situation in Iraq. When you see all the heartache and tragedy it makes it very difficult for people to make plans for the future that are of a growth nature and not purely survival."
Norman Morris, industry communications director at Roy Morgan research said the full impact of the budget is yet to be seen because of the problems in getting it passed by the Senate.
"This may result in a short-term improvement in confidence but continuing instability and uncertainty is not a good environment to make business decisions," Morris said.
However, he added, improved confidence in the economy picking up over the next five years is likely to increase the appetite for business expansion and borrowing.