Climate change fuels bushfire fears | Insurance Business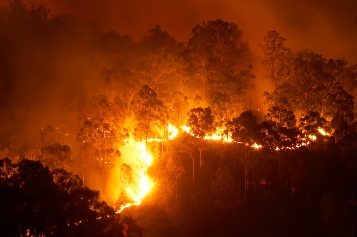 Expect longer and more severe bushfire seasons due to climate change caused by carbon and other greenhouse gas pollution.
That's the stern warning by the Climate Institute as new studies show that southern parts of Australia are already becoming hotter and dryer.
"We have brought together the most recent research undertaken by various bodies and scientists about factors influencing the bushfire season in Australia," said Climate Institute CEO John Connor.
"It is showing that bushfire risk is increasing in bushfire-prone parts of Australia – generally, the south-east and south-west – and that climate change caused by human activity is a significant factor in the environmental changes that are creating these conditions," he added.
Connor said the economic cost of bushfire and other natural disasters related to climate change is expected to soar from $6 billion per year in 2012 to over $23 billion per year in 2050.
"Add in the effects of climate change and it becomes truly alarming," he said.
Connor cited the studies by the Commonwealth Scientific and Industrial Research Organisation (CSIRO) and the Bureau of Meteorology (BOM) which found a significant increase in the occurrence and severity of bushfire weather in over 42 percent of the parts of southern Australia measured since 1973.
Based on the studies, Connor said, the number of fire days considered above "very high" is expected to rise by 120 percent in Tasmania. In Western Australia, the number of annual severe fire danger weather days would double by 2090.
Victoria may also suffer a 'Black Saturday' level bushfire once every three years if the world fails to curb climate change, Connor warned.
"Findings by researchers in each of the southern states are all showing that fire weather officially categorized as 'very high', 'extreme' and 'catastrophic' is on the increase and will become more and more frequent as we move into the future," he said.
Connor also pointed out that the Met Office and the University of East Anglia's Climatic Research Unit in the U.K. had declared 2015 as the hottest year on record.
Australia's Bureau of Meteorology and CSIRO also reported that eight out of the 10 hottest years in the country have taken place since 2002, with 2013 being the hottest and 2015 the fifth hottest.