Far Out Friday: And now for something completely different… | Insurance Business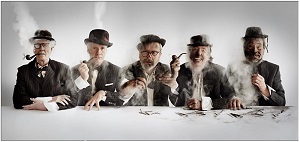 As the surviving members of the legendary comedy team Monty Python prepare to take the stage together in the UK for the first time in 40 years, one of the risk factors that had to be considered was what if one of them should die during the performance run.
With the five comics now all in their 70s, Eric Idle has revealed in a new BBC documentary
Imagine: Monty Python
, that the death insurance quotes for the reunion shows were so high that they had to suggest a deal.
Proving that they may be seniors but they're still sharp of mind, the Pythons suggested that audiences could get their money back if not one but TWO Pythons die.
Speaking on
Imagine: Monty Python - And now for something rather similar
Idle said: "We are all over 70 and the insurance was so much, I said to the company, 'Why don't you make it so two of us have to die? Then if one of us dies, it can be a tribute to them'."
The only issue would be getting anyone to believe that two Python members were actually dead… deceased… bereft of life… resting in peace?
John Cleese, 74, Michael Palin, 71, Terry Gilliam, 73, Terry Jones, 72 and Eric Idle, 71 are appearing on stage from 1 July at London's O2 Arena in 10 sold out shows but Australasian audiences should be able to see a recording of the final show in cinemas in early August and on television later in the year.
Photo source: Geeks of Doom