Far Out Friday: Hoverboard mishaps prompt pioneering insurance plan | Insurance Business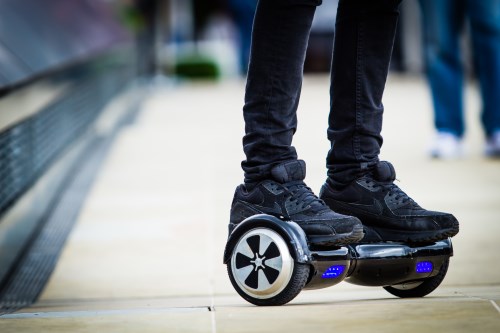 The rise of hoverboard and electric scooter usage in Singapore – and accidents involving them - has inspired one company to develop insurance coverage specifically to safeguard users – or anyone they may injure with such devices.
NTUC Income announced the launch of its Personal Mobility Guard plan this week, which covers accidental death, permanent disability, medical expenses against injuries and even third-party liability for 'when one meets with accidents when riding, mounting or dismounting a personal mobility device (PMD) or bicycle' on the island nation.
The policy doesn't just cover the hoverboard and electric scooter craze either. Personal mobility devices refer to wheelchairs, power-assisted unicycles, rollerblades, roller-skates, skateboards, skate-scooters, unicycles, pedal bicycles and power-assisted bicycles.
The plan offers up to $1 million coverage for damages against third parties due to accidental injuries or damage of property and by doing so, NTUC Income said it paved the way for a liability framework which benefitted users of PMDs, cyclists and pedestrians.
Citing Traffic Police figures, the company said there were 17 fatal accidents involving cyclists or their pillion riders last year, which was up from 15 the in the previous two years.
In the same period the Ministry of Transport reported that there were 27 road accidents involving power-assisted bicycles, which was up from six accidents in 2014 and 2013 respectively.
Annie Chua, vice president for personal lines, NTUC Income, said users of PMDs and bicycles as well as pedestrians were vulnerable when they shared common spaces.
"We designed the Personal Mobility Guard to give protection to users of PMDs and bicycles so that they have peace of mind as they participate in leisure activities.
"We hope the third party liability coverage further promotes responsible cycling and riding in the community, and will go towards preventing hit and run incidences should an accident occur."
The plan had been positively received by various community organisations, who said such insurance was long overdue.
Steven Lim, president of the Safe Cycling Task Force, said: "It answers the public's call for more protection for users of personal mobility devices and bicycles.
"When hurt is involuntarily caused to other road users, users of PMDs and bicycles can fall back on their insurance to compensate injuries or damages to properties. This protects them from any potential hefty liability."
Swen Einhaus, founder of Big Wheel Scooter Singapore, lauded NTUC Income for its customer-centric innovation.
"Riders of kick and electric scooters meet with a fair share of accidents, and an insurance plan to protect riders is long overdue. Giving riders on the road peace of mind is priceless," he said.
The Personal Mobility Guard is priced at $96 a year and will be available from 25 April 2016.