Far Out Friday: Insurance company's comedy character not to be copied | Insurance Business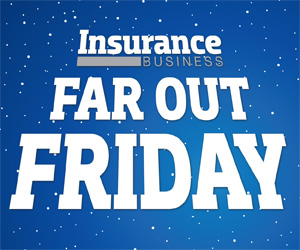 Budget Direct has launched a humorous ad campaign this month featuring a new Evil Knievel-style character Captain Risky whose foolhardy daredevil actions exemplify what the company definitely won't insure.
Advertising agency 303Lowe is behind the campaign which shows Captain Risky embarking on a series of stunts to a Seventies soundtrack.
Uttering the catchphrase 'Let's kick it and rip it', Risky platform dives into a kiddie pool, hangs onto a helicopter over the ocean, crashes a motorbike through a bus window and busts some terrible karate moves.
The voiceover explains that Budget Direct doesn't insure Captain Risky so that rates stay low.
Indeed, using a similarly humorous tone, the company's website lists various extreme travel sports, such as running with the bulls, shark diving or hang gliding, and extreme professions – base jumper or rocket test pilot - that they won't touch in order to keep premiums down.
And they avoid offering car, home and contents insurance altogether in the Northern Territory due to the higher risk of cyclones and unfinished roads in that part of Australia.
The ads are causing a sensation already, and have featured on USA Today's Newslook feature Buzz60 on their website.
Budget Direct's client marketing chief, Jonathan Kerr, told
Mumbrella
that while the ad did include the disclaimer 'Budget Direct does not recommend attempting these stunts', he was not worried about copycat incidents.
"We think it's very clearly comedic, stupendous, ridiculous, parody fun," he said. "We're quite comfortable that people understand him as kind of a metaphor and not someone to be imitated."