Far Out Friday: Insurance workers' amazing farewell for boss | Insurance Business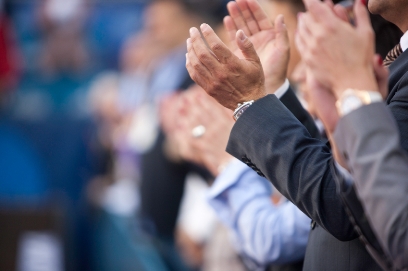 Admiral Insurance CEO Henry Engelhardt is renowned for
his incredible gestures to reward his staff
– and following the announcement of his departure after 25 years at the helm, his employees decided to make their own incredible gesture back to him to show their appreciation.
From the moment he parked his car in the basement on his last day at the office, lining every floor and even in the lift, he was met by hundreds of staff members wearing white t-shirts emblazoned with his face, all cheering and applauding their beloved boss.
A banner reading "Thank you, Henry," also greeted the clearly gob-smacked and overwhelmed CEO who laughed and shook his head in disbelief, reported the
Daily Mirror
.
"You're lucky I don't start at 7:30," the 58-year-old joked.
Engelhardt, the son of a meat-packer, founded The Admiral Group in 1993. The Cardiff-based firm, which has branches in Spain, France, Italy, and the US, has become known for its irreverent, employee friendly culture.
Said the fun-loving Engelhardt in an interview with BBC in 2014, "I made a dedication to myself that if I could help it, I would never again work somewhere where I was unhappy. This is because it is simply very difficult to flip a switch and then be happy when you aren't in work."
At a general meeting in March 2016, Engelhardt and wife Diane announced that they are personally giving a
£
1,000 cash thank you to Admiral's global 8,000-plus workforce. The Engelhardts have also donated millions to good causes through their Moondance Foundation charity.
Two years ago,
Engelhardt threw an epic office party for 5,000 of his staff
costing half a million pounds when he hired Wales' Millennium Stadium decorated in both Alice in Wonderland and Harry Potter themes with jazz bands, jugglers, clowns and pop star Olly Murs brought in to entertain them.
Said Engelhardt of his staff: "The people I work with bring with them a rare desire to improve and succeed, as the economist Joseph Schumpeter put it long ago: "there is the will to conquer, the impulse to fight, to prove oneself superior to others, to succeed for the sake, not of the fruits of success, but of success itself."
"I look forward to my calls, my meetings, and my trips around Admiral Group. And that's because the people I work with care: they care about what they do, they care about the company, they care about each other, perhaps most importantly, they care about everyone who works in Admiral Group. I hope that care lasts for a long, long time."
Engelhardt has expressed that he will retain involvement in the company even after his retirement. The Engelhardts still have around 11% equity stake in Admiral, worth more than
£
500 million, according to
Wales Online
.