Far Out Friday: Insurer says no to Pastafarian's colander headgear | Insurance Business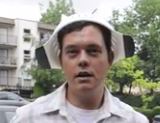 A Canadian man who claims his religious beliefs with the Church of the Flying Spaghetti Monster mean that he must wear a colander on his head has found himself in a stand-off with his insurance company.
Obi Canuel, 37, who describes himself as a 'Pastafarian', submitted a photo of himself wearing the colander to renew his driving licence with public insurer, the Insurance Corporation of British Columbia (ICBC).
However, ICBC wrote to him saying "there is no religious requirement that prohibits you from removing the colander for the purpose of taking the photo to appear on your driver's licence."
The company told him that a new licence would be issued only when he had a picture without the colander.
Canuel had been content to wait until they changed their mind and had been using a paper interim licence. However, the row escalated by several notches when ICBC started issuing one-day permits only.
"I have to work and this is inconvenient. I will have to spend at least some time unable to drive," said Canuel, who believes ICBC's demands amount to an attack on his rights under the Canadian Charter of Rights and Freedoms.
"In Canada we have a right to religious expression and those rights weren't put in place for the familiar status quo religions," he told
The Vancouver Sun
. "They were put in place precisely for cases that are unusual.
"I want everyone to have the right to express themselves religiously within the limits prescribed by law. And I don't want anyone to think that they should feel ashamed or embarrassed or that there's anything wrong with expressing yourself religiously."
The seemingly ridiculous premise of the Pastafarian religion was set up in the USA in 2005 for a serious reason - to protest the teaching of creationism as an alternative to evolution in science classes.
The issue has prompted debate in Canada with some commentators saying the lines between church and state are not separate enough and others saying it points to double standards with some religions giving precedence over others.
In Oklahoma, Pastafarian Shawna Hammond was allowed to wear a colander for her licence photograph in September last year.
However, British man Ian Harris, who was challenging the DVLA over the right to wear a colander in his licence photo, had so far been turned down in his attempt.
Harris said he was prepared to take it to the final appeal stage but admitted if he had to send a photo without a colander it would be a 'bad day for religious freedom.'