Far out Friday: London 'fryscraper' turns up the heat | Insurance Business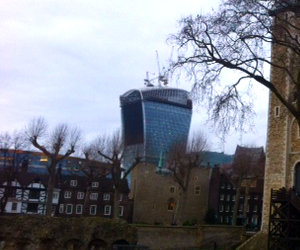 Giant building-mounted heat beams frying all in their path might seem like the stuff of science-fiction B-movies or Tolkien's Middle Earth, but one of London's newest skyscrapers has seemingly decided to embark on its own path of destruction in recent weeks.
The 37-story 'Walkie Talkie' tower has garnered the brand new sobriquets of 'Fryscraper' and 'Walkie Scorchie' following the discovery that the beam caused by the curved skyscraper concentrating the sun's rays has been melting parked cars.
The solar-powered death ray was measured at more than 110 degrees Celsius in September 2013, with one enterprising soul using the time-honoured method of frying an egg in its glare to test its temperature. It was also blamed for setting fire to a doormat at a nearby barber shop.
Rather than using the building's heat beam for good – say, by enforcing parking restrictions in the Square Mile – the 155-metre building's owner draped a black curtain over the top third of one side of the building as a temporary fix. They are also seeking permission to mount sun-shading gear to block the car-melting light beam. The fix is expected to cost in the "single digit millions" of pounds, and take about six months to install.
The Walkie Talkie, set to be completed in June this year, is expected to be a popular choice for insurance firms in London due to its proximity to the Lloyds of London market. Tenants that have signed leases include RSA Insurance Group and units of Liberty Mutual Insurance. Suggestions that the beam was designed specifically to drive up motor premiums on luxury vehicles are wholly unfounded, wildly speculative and have absolutely no basis in fact whatsoever.