Far out Friday: the animal A-lister's cover demands | Insurance Business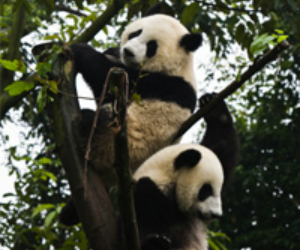 We're au fait with the excessive demands of human celebrities, especially when insurance is concerned – Keith Richards insuring his fingers or David Beckham insuring his feet, for example.
However, there's a new breed of celebrity in town causing panda-monium: China's giant panda. Best known for its longtime presence on the World Wide Fund for Nature's logo, the conservation efforts by China's Panda Breeding Centre have turned around the panda's formerly dire future.
In fact, the Breeding Centre's efforts have been so successful that it's sent 30 animals to various zoos around the globe to increase awareness of the problems faced by giant pandas. While the project was initially given the title of 'Panda Diplomacy' and was intended to improve China's relations with countries across the globe, pandas are now leased on ten-year loans with standard terms including a fee of up to US$1 million per year.
So, when Canada's Toronto Zoo became the latest zoo to join the global giant panda breeding programme this year, it needed to make sure its investment was safe.
That was no mean feat, as pandas don't travel light. As you'd expect from the A-listers of the animal world, the pampered pandas prefer to fly in their private personalised jet, with their every wish panda'd to. Bamboo, bamboo shoots, apples, water, toys and more are all readily available to ensure a comfortable in-flight experience. Eats shoots and leaves indeed.
Pandas are clearly a sizeable investment – and one that needs to be insured. Step in Catlin's livestock division and specialist panda underwriters Robert Heinzl and Lorraine Mills. The pair were far from bamboo-zled, thanks to their extensive experience: according to Catlin, they rapidly whipped up a bespoke policy covering travel, their anticipated five-year stay in Toronto, as well as a planned transit from Toronto to Calgary where the pandas will spend the last five years of their loan period.
Luckily, the policy didn't need to be called in, and breeding pair Da Mao and Er Shun are now ensconced safely at Toronto zoo. Even so, we're not convinced the North American climate will be conducive to amour – especially given the giant panda's legendary dislike for carnal relations – so we'd suggest to brokers that they shouldn't be rushing to panda insurance as the next (bam)boom market just yet.