Far Out Friday: Woman, 8-months pregnant, crashes car for insurance money | Insurance Business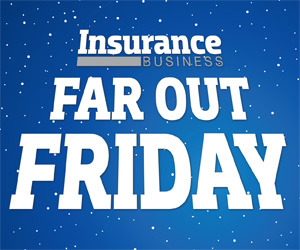 It's not often that a sitting judge will publicly deem a defendant 'wicked to the extreme,' but that's exactly what one magistrate called a Sydney woman who orchestrated a carcollision for insurance money when she was only four weeks away from giving birth.
On a rainy night earlier this year, Ghenoua Fadel intentionally slammed her Toyota Rav 4 "with force" into a Nissan X-Trail that had been strategically placed in the street by Jamal Gmrawi, a friend of her husband. Then, a second friend who had been watching for witnesses entered the car and ran into the Nissan X-trail yet again.
Fadel was eight months pregnant at the time, and the only precaution she took for the unborn baby was placing a pillow between her stomach and the steering wheel.
She complained to authorities about stomach and back pains, but told the police and ambulance workers that the exit constituted a "miraculous escape."
Then, both Fadel and Gmrawi alleged that she missed a stop sign and subsequently collided with the other car. Investigators later discovered, however, that the damages on the friend's vehicle were caused by two distinct forces of impact, and Gmrawi's vehicle was not in motion during either.
The fraudsters did not realise their actions had been captured by CCTV cameras, which confirmed that the collisions were deliberate. In the meantime, though, Fadel had already filed a $24,440 claim with her insurer, NRMA, and Gmrawi requested nearly $45,000 from his insurer, AAMI.
Fadel has since told the court that she was struggling through "a hard time" and "wasn't thinking straight" when she agreed to the insurance scam.
"I was worried about the car I had. I wanted a bigger car for my four children and couldn't afford it," she told the courtroom. "Of course I feel bad ... that's why I pleaded guilty."
Despite the confession, the Bankstown Local Court sentenced her to 13 months in jail, which she will serve in the form of home detention – possibly due to the fact that she is a mother of four. The magistrate in charge of the case hopes that this outcome is justified, given the pervasiveness of auto insurance fraud in the region.
"Clearly we have crossed the threshold for jail. The community is rightly outraged by you participating in such an organised criminal enterprise," Magistrate Jennifer Giles ruled. "It's the reason we pay more for insurance."