"Get your game face on": Insurance specialist boss tells brokers | Insurance Business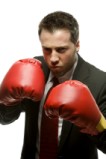 There's only one way for brokers to handle the "significant market threat" that is rival insurance players using online distribution channels to compete for business and that is to get involved.
But it's not as simple as launching a website.
"There are a number of ways brokers can reap the benefits of having an on-line presence, from increasing sales to accessing a wider market, retention and customer relations," Peter Tugby, CEO of insurance technology business 3CA, said. "Many believe that going on-line is simply a sales channel opportunity, but there are lots of facets to be considered to make sure your on-line offering doesn't become a mistake."
One of the most important aspects of selling online, Tugby said, was to make the website user-friendly.
"Insurance professionals suffer with terminology which isn't always easy to follow for the on-line buyer." He said. "Wherever possible, keep the language simple to understand and offer advice routes."
In an age where consumers are increasingly using other methods to connect with brokers, Tugby advises brokers to ensure they have internet video capabilities.
"This can help remove the waiting for call centres to re-route and provides immediate face-to-face interaction for customers," he explained. "Multiple advisors can be brought in and out of conference depending on the need whilst documents may be passed between the parties speeding up dialogue."
Keeping customers should also include an element of "gamification".
"It's a simple concept of competition, recognition and reward. Online users like to level up, especially if they are rewarded for it." Tugby said.
"Many customers still prefer face-to-face interaction. However the increase of online aggregator and comparison sites, coupled with far-reaching social media-savvy direct carriers, means there is a significant market threat to brokers who bury their head in the sand."
Tugby's tips for getting online
Re-use, buy or build. Companies should not fear technology but adoption should be managed within a considered re-use, buy or build strategy.
Consider whether you can re-use components of existing technology. You can maximise utilisation while reducing risk this way. If you can't, find out if someone else has already built it. If nobody has, then invest in a work program that keeps the business expectation and technology teams aligned.
Back-end and front-end alignment. Whatever online technology and features you use, they should be kept in line with technology you have already invested in your back-end systems. Don't let the front-end online technology write cheques the back end can't handle.
Strategic regularity. Evaluate your technology strategy regularly. That's not to say you should jump on the bandwagon of every new technological development but cherry-pick the breakthroughs which fit your long-term goals.