Global truck manufacturer Daimler launches autonomous technology | Insurance Business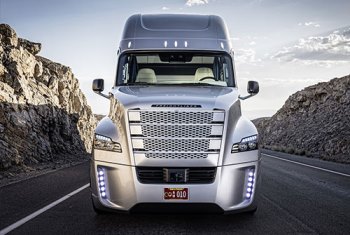 Daimler, one of the largest producers of trucks in the world, has unveiled autonomous technology for its vehicles.
Last week, the manufacturer drove three WiFi connected, autonomously driving trucks in a platoon on the A52 Autobahn in Germany.
The trucks travelled in platoon in a bid to reduce fuel consumption and boost road space for other drivers.
"We are connecting the truck with the internet – making him the mobile data centre of the logistics network," Dr Wolfgang Bernhard, member of the Board of Management of Daimler AG with responsibility for Daimler Trucks & Buses, said.
"It connects all those involved in goods: drivers, schedulers, fleet operators, workshops, manufacturers and insurance companies or authorities.
"They receive information in real time which was previously unavailable: about the condition of the tractor unit and semitrailer, traffic and weather conditions, the parking availability at motorway service stations, rest areas and much more."
The trucks run a system called Highway Patrol Connect and the manufacturer believes that trucking offers a great avenue into driverless technology.
Jeremy Rifkin, author, sociologist and futurologist, said that the launch heralds a new era in industry.
"Today Daimler lays the foundation for the third industrial revolution," Rifkin said.
"In the era of the internet of things all tools and machinery will be equipped with sensors which constantly provide a real time information flow. This will fundamentally change the way we make business. The internet of things is offering completely new opportunities."