How Allianz is helping Australia's newest immigrants | Insurance Business Australia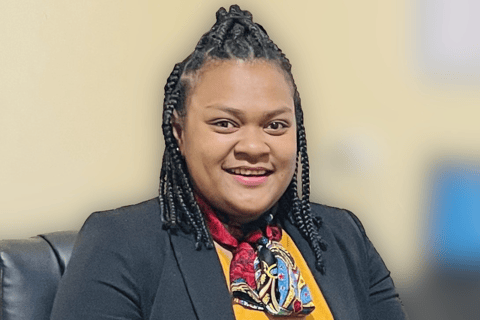 Allianz Australia recently celebrated 37 new refugee education scholarship recipients at ceremonies in Sydney, Brisbane and Melbourne. The scholarships were awarded through the insurer's partnership with Settlement Services International (SSI), a community organisation that supports refugees and other newcomers to Australia to achieve their full potential.
Since 2016, the insurer has awarded more than 200 scholarships worth more than $400,000 as part of its Sustainable Employment Program with SSI.
As a result, more than 30 refugees have found permanent employment with Allianz in roles including claims and underwriting. Ana Garnett (pictured above) is a cadet workers' compensation claims officer in the insurer's personal injury division.
Garnett is originally from Fiji from a family of fishermen. Before her move to Australia, she worked there as an IT helpdesk officer and as a nanny at a resort.
"However, I knew that there was greater opportunity for me in Australia," she said. "I arrived in Australia on March 1, 2020, with $250 in my pocket."
Read more: Allianz celebrates five years of supporting refugees
Garnett said before she found the Allianz and SSI Sustainable Employment Program she was really struggling with work.
"I had previously been working in poultry and had interviewed for a number of roles, however I didn't have the local experience to get me a job," she said. "I was missing home, missing my family and began to feel like I'd never have a career in Australia."
However, an acquaintance put her in touch with SSI and within a couple of days she received a call.
"When I met the team at SSI, things began to change," said Garnett. "I met kind people who encouraged me."
She said staff at SSI recognised the value of her experience and aligned her skills and personality with the role and culture at Allianz. They also helped her prepare for the interview with the insurer.
"The interview process with Allianz felt different – I was relaxed, confident in myself and recognised the kindness in those I was meeting," she said. "I was so thrilled to learn that I was successful in getting the job."
Garnett said she is the first person from her family to work in an office.
"My family are so proud of me for the work I do at Allianz," she said.
Her role as a cadet workers' compensation claims officer involves helping people who have experienced an injury in their workplace during the initial claims process, including assisting them with payments or the lodging of new claims.
"Meeting and working with such great people is what I enjoy most about my job," said Garnett.
She said a supportive culture at Allianz has built her confidence and she always feels comfortable asking questions and getting help from her team when she needs it.
Read more: Allianz and SSI extend scholarship program to two new states
The work, however, is not without its challenges.
"Working with people when they are dealing with an injury is challenging and it is so important to show empathy," she said. "I always try to put myself in their shoes and appreciate that beyond an injury, people may also be feeling fearful, vulnerable, or may be struggling with mental health."
After more than three years in Australia, she's found the people to be welcoming and accommodating.
"The people here are very helpful, polite and encouraging, despite our different cultural backgrounds," she said. "I didn't have any difficulty adjusting or settling in, but I sometimes have trouble understanding the Australia accent."
What struck her most on arrival, was the diversity of cultures.
"How on TV now there is a mix of cultures appearing in advertisements, TV shows and news," she said. "I was pleasantly surprised."
She was also struck by the cost-of-living here and – as many others would agree – said those costs have increased "dramatically" in the last five years.
The Allianz cadet does miss home too.
"I miss being close to my family and the food," said Garnett.
The recent scholarships awards celebrations were livestreamed by Allianz Australia so recipients, their families and friends, supporters, teachers and volunteers, could all celebrate together.
"At Allianz our purpose is to help secure the future for our customers, employees and the community," said Allianz Australia managing director Richard Feledy. "The more we can bring together people with different experiences, ideas, and backgrounds, and create environments in which people can use their unique skills and perspectives, the stronger both businesses and societies will be."
The Allianz and SSI partnership has been recognised by the Australian Human Rights Commission.